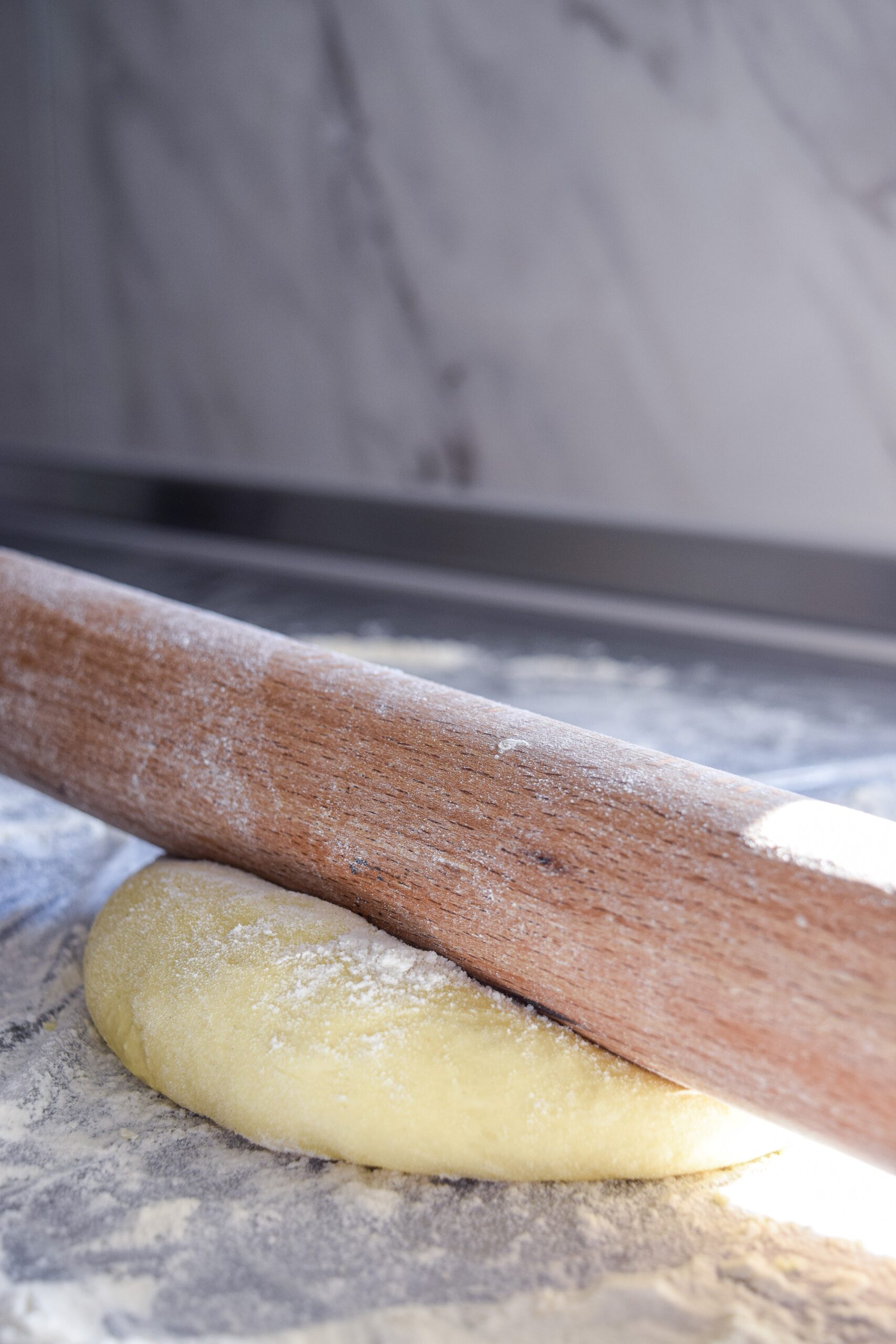 I love pizza, weather its homemade, or store bought! This recipe is the best that you will ever find! It is perfect for deep dish and even (5x better) for thin crust! Enjoy!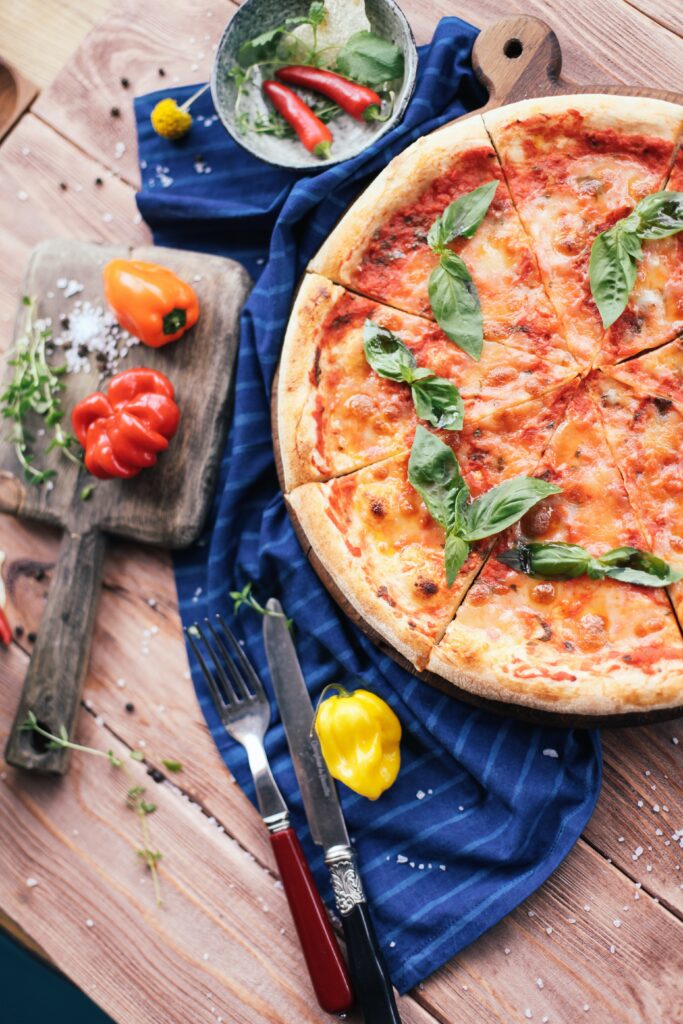 Let me tell you right away: this recipe wasn't born overnight. It's the result of a lot of effort and many tests last summer when I had first perfected this recipe!
This is my go-to pizza dough recipe. I have had it for more than a year now and after making it for the millionth time, I decided it's time for an update with a video tutorial and clearer recipe instructions. Plus, many of you said you want to defeat yeast which many people (including me) thought was an intimidating ingredient! Consider this your starting guide and refer back to it often.
Why waste the time when you can just buy frozen pizza dough? Frozen pizza dough is certainly convenient, but from-scratch crust has a delicious flavor and texture that only comes from homemade. Plus, most of the work is hands-off!
This dough is fluffy yet crispy, not too doughy but even better! I love the texture and the flavor and I know that you will too!
This is a Lean Bread Dough
Pizza crust, like homemade bagels, artisan bread, and focaccia, requires a lean dough. A lean dough doesn't use eggs or butter. Without the extra fat to make the dough soft, you're promised a crusty pizza crust. (However, I recommend using some olive oil for flavor and to keep the interior on the softer side.) Recipes like cinnamon rolls require fat to yield a "rich dough," which creates a softer and more dessert-like bread.
How to Make Easy Pizza Dough (for bread beginners!)
Watch my pizza dough video tutorial below. It's really that easy!
Mix the dough ingredients together by hand or use a hand-held or stand mixer.
Knead by hand or beat the dough with your mixer. I like doing this by hand and you can watch me in the video.
Place dough into a greased mixing bowl, cover tightly, and set aside to rise for about 90 minutes or overnight in the refrigerator.
Punch down risen dough to release air bubbles. Divide in 2.
Roll dough out into a 12-inch circle. Cover and rest as you prep the pizza toppings.
Top with favorite pizza toppings.
Bake pizza at a very high temperature for only about 15 minutes.
Little bakers can lend a hand AND have fun in the process. Let the kids help you press down the dough and shape into a circle. They can add their cheeses and make pepperoni faces on top of the pizza pie. We all love a smiling pizza 🙂
---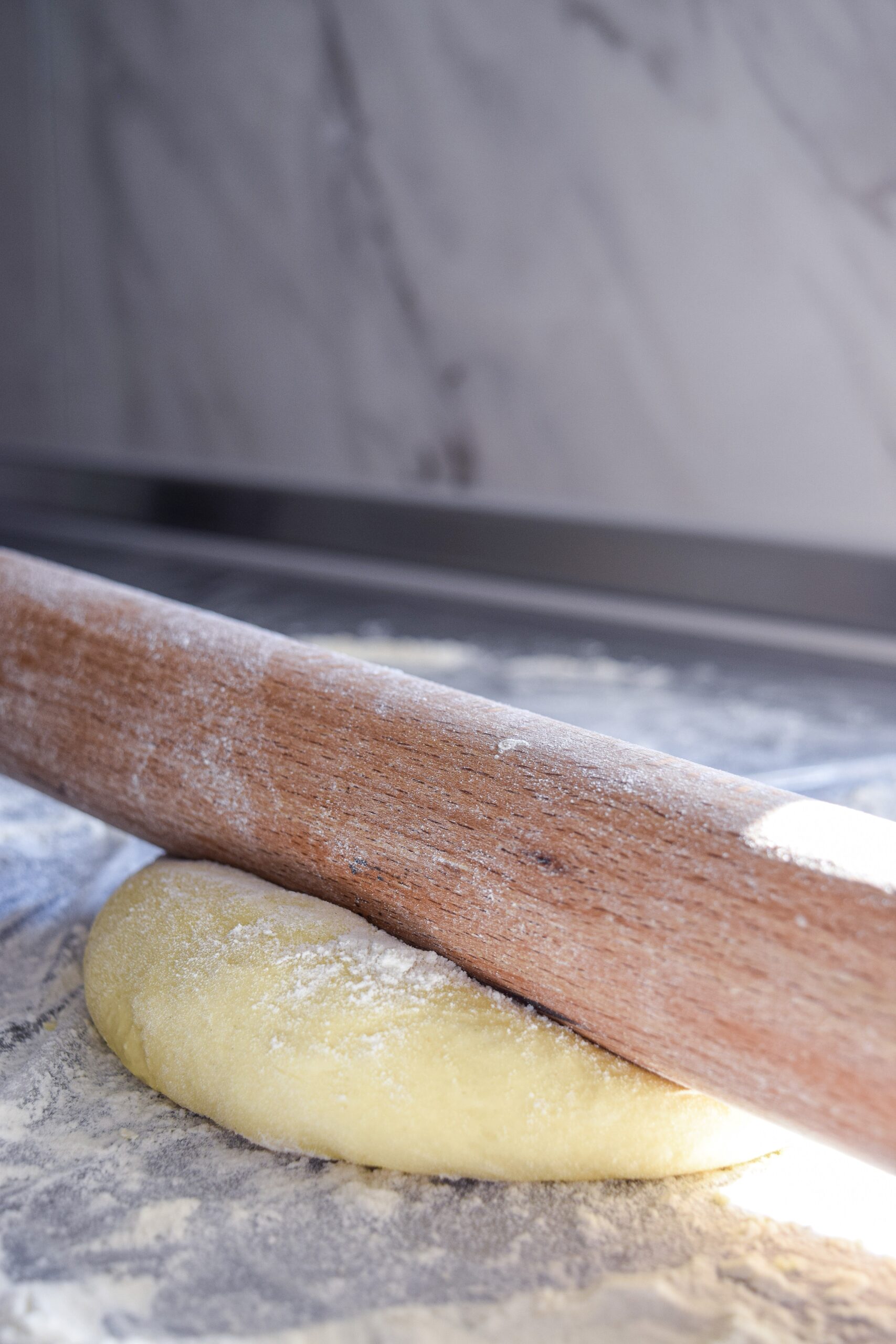 Pizza Dough
This is a super simple easy dough! perfect for the rushed mornings to bake right after coming home from work! Every one will love making this with you, better yet, they will love eating it!
Ingredients
2

cups

all purpose flour

unbleached

1

tsp

instant yeast

1 1/2

tsp

salt

3/4

cup

warm water

 (100F/ 38C)

sprinkle of

cornmeal

or samolina
Instructions
In Bowl Combine Flour, Yeast, and salt, whisk the dries. Add water and stir until just moistened. Beat with a wooden spoon until it forms a lumpy sticky mass. If it is difficult to combine, move the dough to a smooth surface and knead a few times! once dough is kneaded 40 times, shape it into a disk, the dough should bounce back to the touch

Cover the dough in a bowl and let rise at room temperature (72f/ 22C) for 2-4 hours in a draft free location… Use the dough to make pizza and so much more!

reheat oven to 375°F (190C)Let it heat for at least 15-20 minutes as you shape the pizza. Lightly grease baking sheet or pizza pan with nonstick spray or olive oil. Sprinkle lightly with cornmeal, which gives the crust extra crunch and flavor. Highly recommended.

Shape the dough: When the dough is ready, punch it down to release any air bubbles. On a lightly floured work surface using lightly floured hands or rolling pin, gently flatten the dough into a disc. Place on prepared pan and, using lightly floured hands, stretch and flatten the disc into a 12-inch circle. Lift the edge of the dough up to create a lip around the edges. I simply pinch the edges up to create the rim. If using a pizza stone, place the dough directly on baker's peels dusted with cornmeal.

Cover dough lightly with plastic wrap or a clean kitchen towel and allow to rest for a few minutes as you prepare your pizza toppings.

Top & bake the pizza: To prevent the filling from making your pizza crust soggy, brush the top lightly with olive oil. Using your fingers, push dents into the surface of the dough to prevent bubbling. Top with your favorite toppings and bake for 12-15 minutes.

Slice hot pizza and serve immediately. Cover leftover pizza tightly and store in the refrigerator. Reheat as you prefer. Baked pizza slices can be frozen up to 3 months.
Notes
This recipe Produces a slightly crispy crust and is adapted from the pizza dough found in 200 Fast and easy Artisan Breads by Judith Fertig
Dough can be stored in the fridge for up to 9 days, before use, please leave the dough out for 1-3 hours to come to room temp.
enjoy pizza fresh 🙂
Freezing Instructions: This recipe yields 1 12-inch pizzas. After the pizza dough rises and you divide the dough in half , you can freeze one of the balls of dough to make pizza at a later time. Or you can simply freeze both balls of dough separately. Lightly coat all sides of the dough ball(s) with nonstick spray or olive oil. Place the dough ball(s) into individual zipped-top bag(s) and seal tightly, squeezing out all the air. Freeze for up to 3 months. To thaw, place the frozen pizza dough in the refrigerator for about 8 hours or overnight. When ready to make pizza, remove the dough from the refrigerator and allow to rest for 30 minutes on the counter. Continue with step 5.
Overnight/All Day Instructions: Prepare the dough through step 3, but allow the dough to rise for 8-12 hours in the refrigerator. (If it needs to be in the refrigerator for longer, use cooler water in the dough which will slow the dough's rise and allow for more time.) The slow rise gives the pizza dough wonderful flavor! When ready, continue . If the dough didn't quite double in size overnight, let it sit at room temperature for 30-45 minutes before punching down.
Special Tools: KitchenAid Stand Mixer, Dough Scraper, Pizza Pan, Pizza Cutter
Yeast:instant yeast. You can use active dry yeast instead. The rise time will be up to 5 hours
Pictured Pizza: This recipe yields 1 pizzas. For each, top with 1/2 cup pizza sauce, 1-2 cups mozzarella cheese and fresh basil when pizza is out of the oven
Pizza Topping ideas will be added in the future, I would love to hear what kind of toppings you like, let me know in the comments
Protip:
Do not use too much flour, kneading is always a better option
Add some cornmeal to the bottom of your pan/ pizza stone to have the perfect bottom texture this is optional but recommended