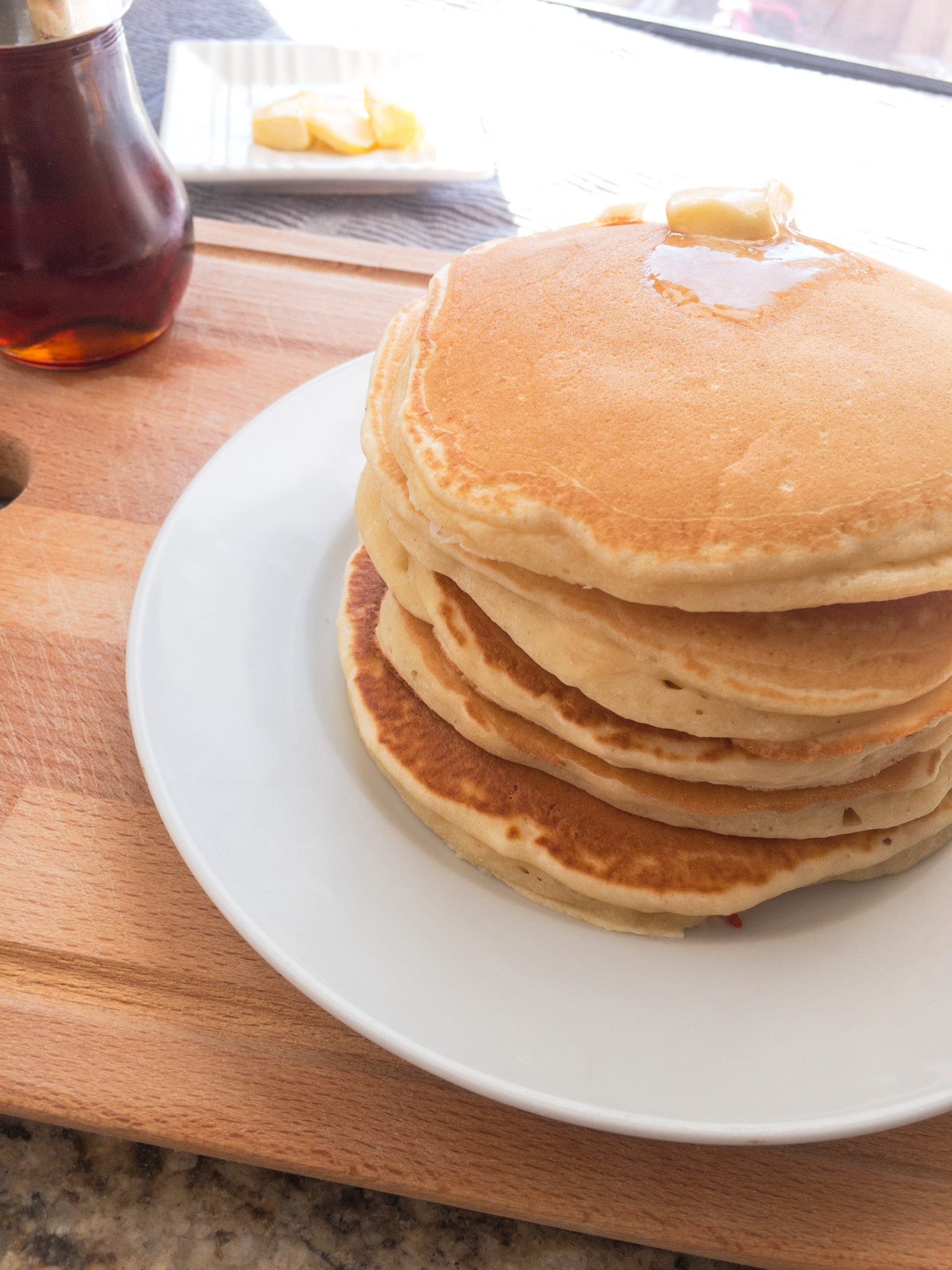 Fluffy and light Pancakes
This is a no fail weekend pancake recipe!
Every single Sunday begins with pancakes… and ends with leftover pancakes from the morning. These are everything you want in a pancake. They're soft and so fluffy… each mouthful melts in your mouth… you'll be reaching for more than one.
How to make fluffy pancakes:
The fluffy pancake begins with egg whites, whip them until stiff;
Do not overbeat the dough or the egg whites
Rest for 30 minutes
I promise that this all may seem like a little much but the dough is ready in under 15 minutes and the rest is done by resting for 30 minutes and enjoying your cuppa' coffee!
Why rest the batter?
Resting the batter helps make the dough fluffier and helps seal that ai into the batter?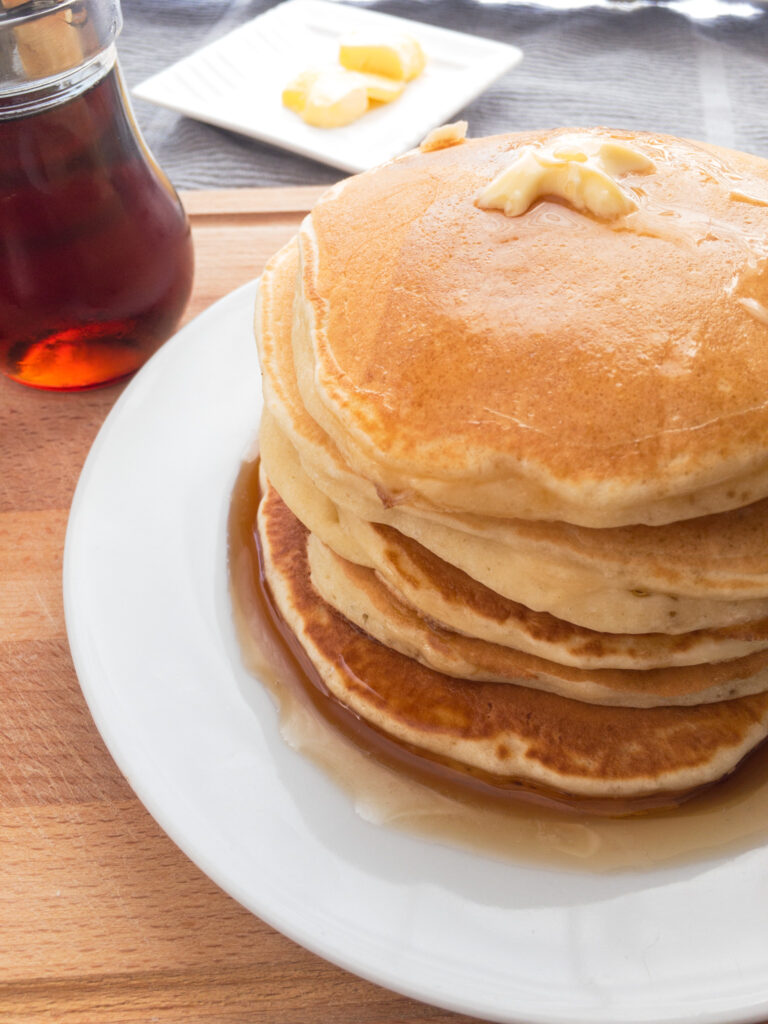 Pancake Hacks:
Double the dry ingredients in this recipe (ONLY THE DRIES, PLEASE AND THANK YOU) after doubling the dries separate them into equal halves and seal away one half into a bag. Store this for next week! You have just made your own box mix all you have to do is write the instructions on the box and make the wet ingredients!! So easy!!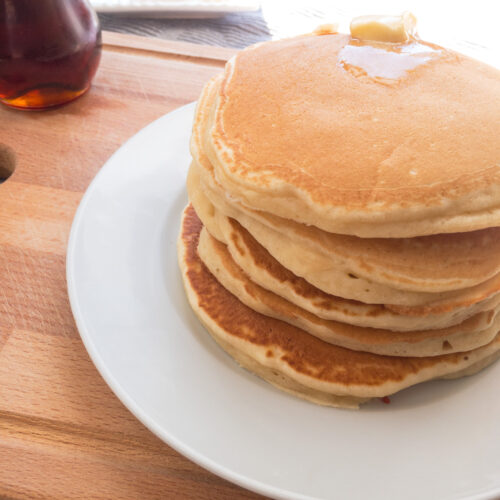 Fluffy pancakes
I love these easy fluffy light and filling pancakes for breakfast! Thank you grandma for this tasty recipe!
Ingredients
Dries
2 1/2

cups

all-purpose flour

1

tsp

baking powder

heaping tsp

1

tsp

baking soda

a generous pinch of salt
wets
2

large

eggs

3 tbsp

sugar

1/2

cup

butter

1/2

tsp

vanilla

2 1/2

cups

whole milk

1

tbsp

of vinegar

1

tbsp

lemon juice
Instructions
Batter
Start by Sifting your flour, baking soda, baking powder and salt. Then melt your butter and set aside. Add the lemon juice and vinegar to your milk and set aside.

Separate your egg whites and yolks.

Whip your egg whites until they reach stiff peaks. In another bowl combine your sugar and egg yolks and whisk until the sugar granules have dissolved into the yolk( the color should be a fairly light yellow) Add in the melted butter and vanilla extract stir until a cake batter consistency

Start by adding your dries to your egg, sugar and butter mixture and alternate with the milk (now buttermilk). Finally add your egg whites do not over beat just mix slowly with a small spatula and do not deflate the whipped egg whites.

Cover your batter and set aside for thirty minutes
Cooking
Preheat your good quality, non stick pan or griddle on medium heat first. Once it's hot, lower the heat down to low-medium heat. Wait about two minutes. This part is crucial and so worth it. Lightly grease the pan with a small amount of butter (yes, even on non stick pans), and wipe away any excess butter with a sheet of paper towel.

Use a 1/3 cup measuring cup to pour your batter so you get perfect, evenly sized pancakes. Start pouring from the middle, then continue pouring slowly in a circular motion so that the batter spreads into perfect round shapes.

Allow the pancakes to cook properly! Don't rush them on high heat, or flip them too early. Let that under-side cook to a beautiful golden brown colour, and when bubbles start forming on top and around the surface (batter side), they are ready to flip.

How to get that flip perfected without creating lopsided pancakes? Grab a good, plastic spatula and slide it underneath the pancake. Use your WRIST to gently flip them instead of using your whole arm. You'll know what I mean when you're in front of your pan ready to flip. THIS makes a HUGE difference.
Notes
Milk: For this recipe you can also use buttermilk. I choose to make it from home
Enjoy! Please consider leaving a review I would really appreciate it 🙂
-Numnum