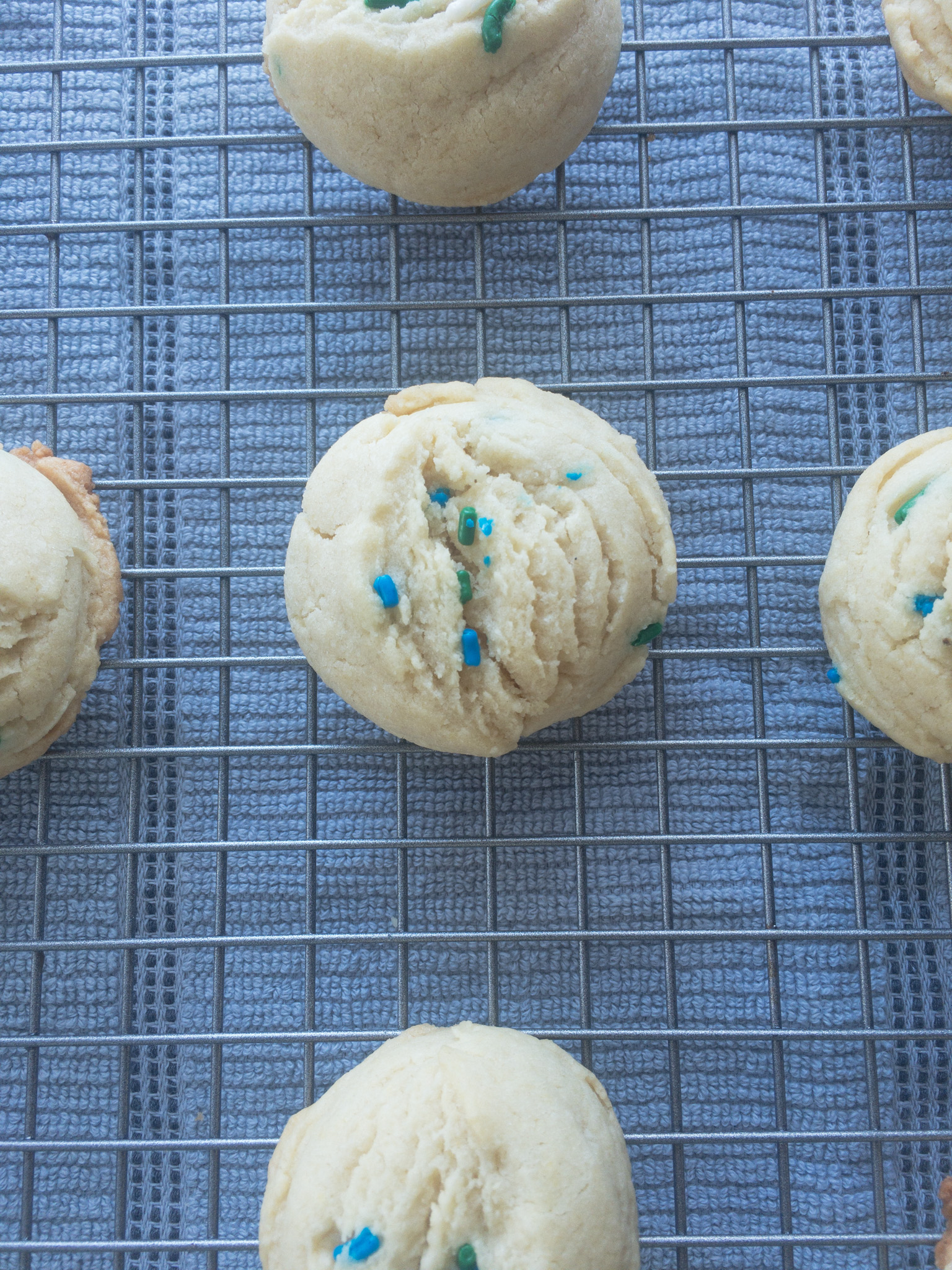 Best Chewy Sugar Cookie Ever
I love sugar cookies, they are perfect for any event! This recipe is perfect! It is soft, chewy and the perfect thickness! These are the best Sugar cookies every!
One problem that many of us have come across when making Sugar cookies is the texture. My previous recipe had made tasty yet hard cookies. I wanted to develop a chewy, bendy and soft sugar cookie that will be forever chewy!
And as with any classic, simple cookie, it can't hide behind frosting or anything, so it really needs to be just right. Soft and chewy for days, my friends. I don't want some cookie that's great for a day or so and then you have to toss them. No, these will call to you from the kitchen counter until they're all eaten – and it could be 4 or 5 days later (if they last that long).
How to make these cookies?
These cookies are so easy and I was so surprised to see them come together so fast!
mix half melted butter with granulated sugar
add egg yolks and vanilla
in a separate bowl combine flour, baking soda and baking powder
add them to the wet ingredients and mix well
add in some sprinkles (optional)
and bake at 350F or 180C for about 10-13 minutes
cool and enjoy!
What makes a chewy cookie?
There are many components in these cookies and almost every ingredient aids in making a perfectly chewy cookie!
2 egg yolks, an egg white has no fat and does not aid in making a cookie chewy. Two egg yolks will keep these cookies moist for days!
The sugar and butter white sugar aids in some spreading which is an important component in a chewy cookie!
The flour: the flour holds the shape of the cookie for the perfect cookie
The melted butter using partially melted butter insures that you dont make cookies that are hard and cakey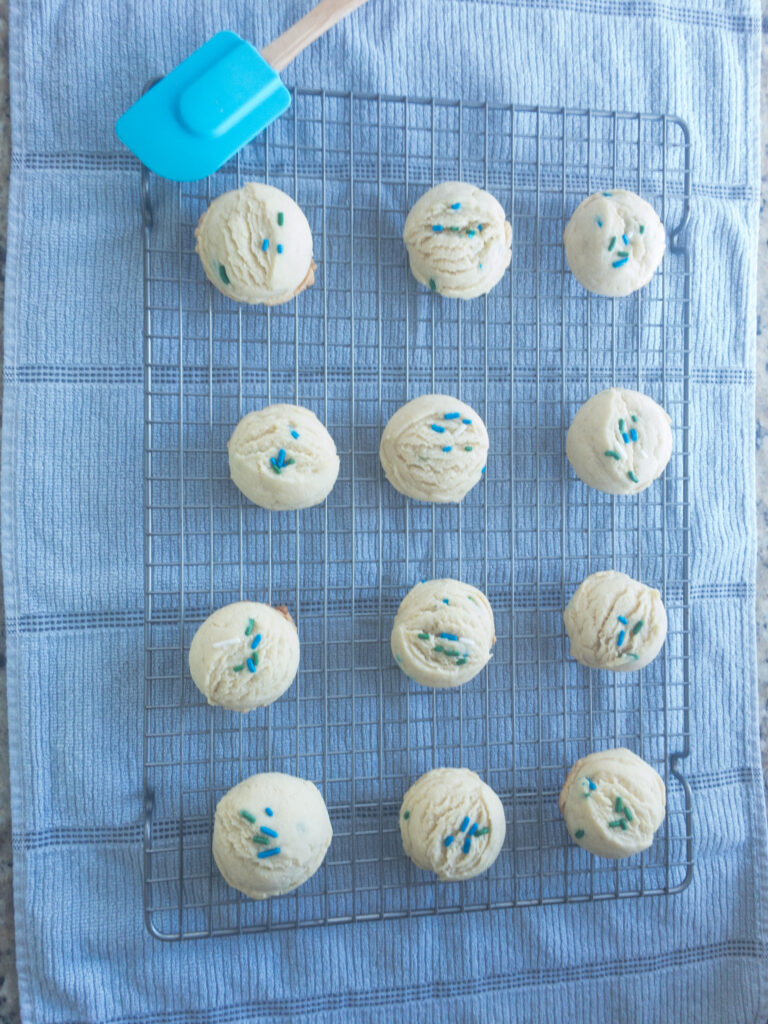 Good news
These cookies are no chill!! I Think they look best a little bit flatter than domed. However, if you want a domed, thick cookie consider chilling them for 30 minutes. This recipe is ready in under 30 minutes however if you want to chill them it will take an hour in full.
These cookies are beautiful, with pretty cracks, chewy texture and amazing flavor! You will love these and they come together in under thirty minutes! What holding you back? Go on, make 'em!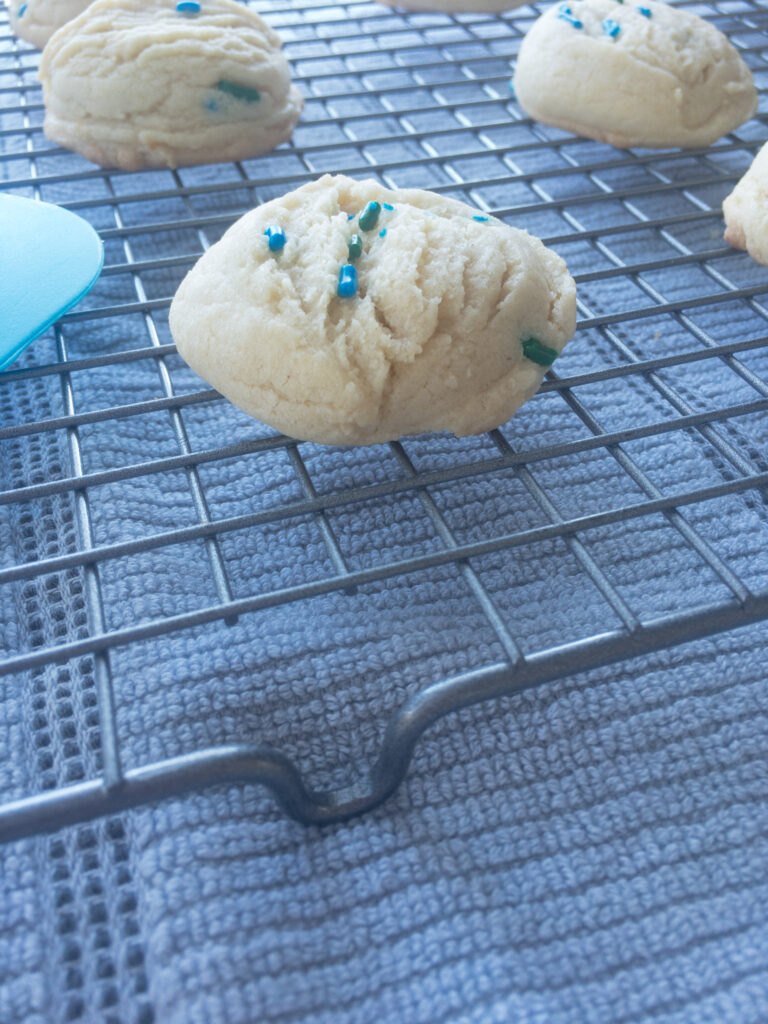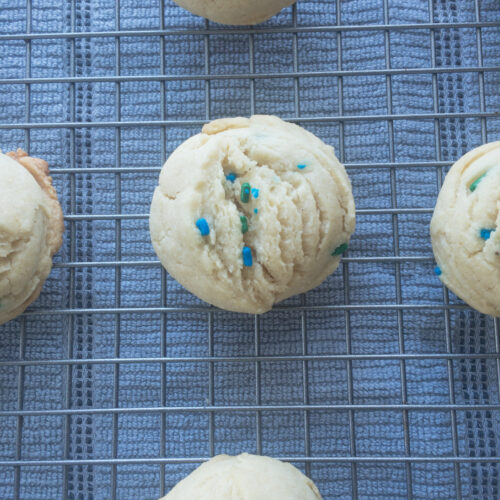 The best chewy sugar cookies!
I love sugar cookies, they are perfect for any event! This recipe is perfect! It is soft, chewy and the perfect thickness! These are the best Sugar cookies every!
Ingredients
1 1/8

cup

all-purpose flour

3/4

tsp

baking powder

1/2

tsp

baking soda

3/4

tsp

salt

optional but recommended

1/2

cup

unsalted butter

1/2

cup

sugar

1

tsp

pure vanilla extract

2

egg yolks

see note on what to do with egg white

sprinkles

optional
Instructions
Preheat the oven to 350°F or 180°C and line a baking sheet with parchment paper or a silicon baking mat.

Begin by combining your flour, salt, baking soda and baking powder in a small bowl. Sift them and whisk them well.

Then in a medium sizes bowl combine your partially melted butter, sugar, and vanilla. Add in the egg yolk

Combine the dry ingredients into the wets. Mix only until you see no more flour. It is optional to add sprinkles, I chose to add in a bit.

Scoop onto your lined baking pan into about 1.5 tablespoon scoops. Baking in your preheated oven for 10-13 minutes or until the edges are firm yet the cookie is soft (not too soft of course)
Notes
What to do with egg  whites? You can throw them away however please consider making scrambled egg whites or confetti cupcakes. Thank you
Sprinkles: Sprinkles are optional. I was making these for a birthday party and I thought the sprinkles would make these very festive! 
Butter: Please use melted butter (or partially melted butter) Read my blog post above to find out why we use melted butter.
Salt: This recipe is very sweet and I like to add a generous amount of of salt as to cut the sweetness and make it taste even better. You can skip the salt if you want or reduce it to a good 1/2 tsp
If you have any questions leave a comment please.
If you have tried this recipe please consider leaving a review. Thank you
Enjoy
-Numnum