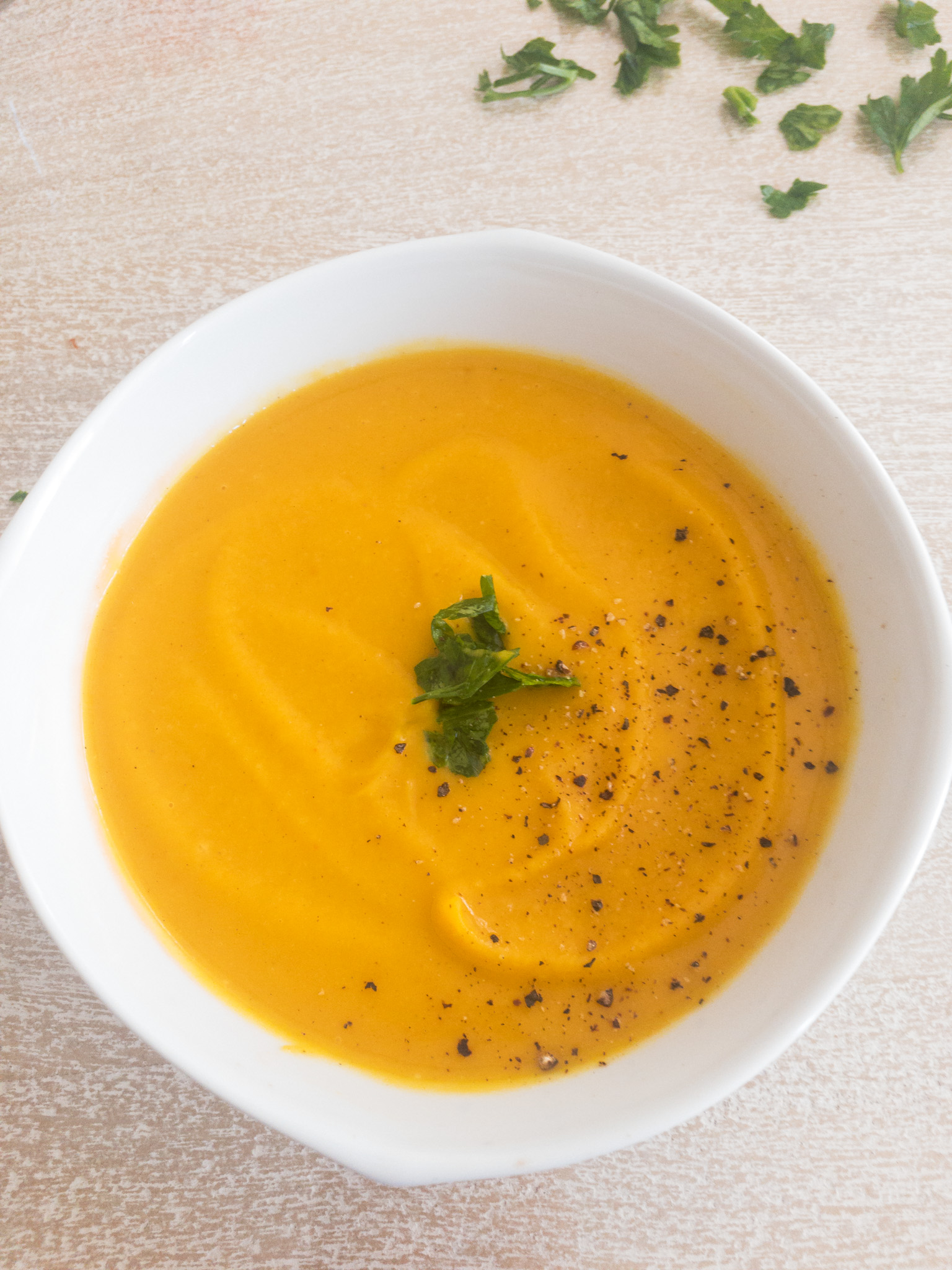 Fresh Roasted Pumpkin Soup
This easy recipe is ready in just a few steps, with maximum flavor and creaminess you should try this tasty fall recipe!
This easy recipe uses fresh pumpkin for all the flavor and the rest s just basic pantry staples! I love this recipe because of how easy it is, the only hard part is being patient enough for your roasted pumpkin to soften. I hope that this recipe will become a fall favorite for your family just as it has become for me!
Roasted Pumpkin?
This pumpkin soup recipe includes instructions on how to roast fresh pumpkin, for maximum pumpkin flavor. Canned pumpkin purée also works well, if you're in a time crunch. See the recipe notes for details!
Don't worry, Roasting pumpkin is easy and worth all the effort! Just chop up you pumpkin and bake t for 35 minutes, this gives so much flavor and softens your pumpkin without the stove top struggle! When you roast your pumpkin it tastes even better the next day and it is perfect for left over night 🙂
Secret ingredient
This recipe has a special ingredient that takes it to the next level! This recipe is a sweet and salty type of recipe and it reminds me of butternut squash soup that my mom used to make! This secret ingredient is maple syrup, with only a table spoon it takes that flavor to the next level!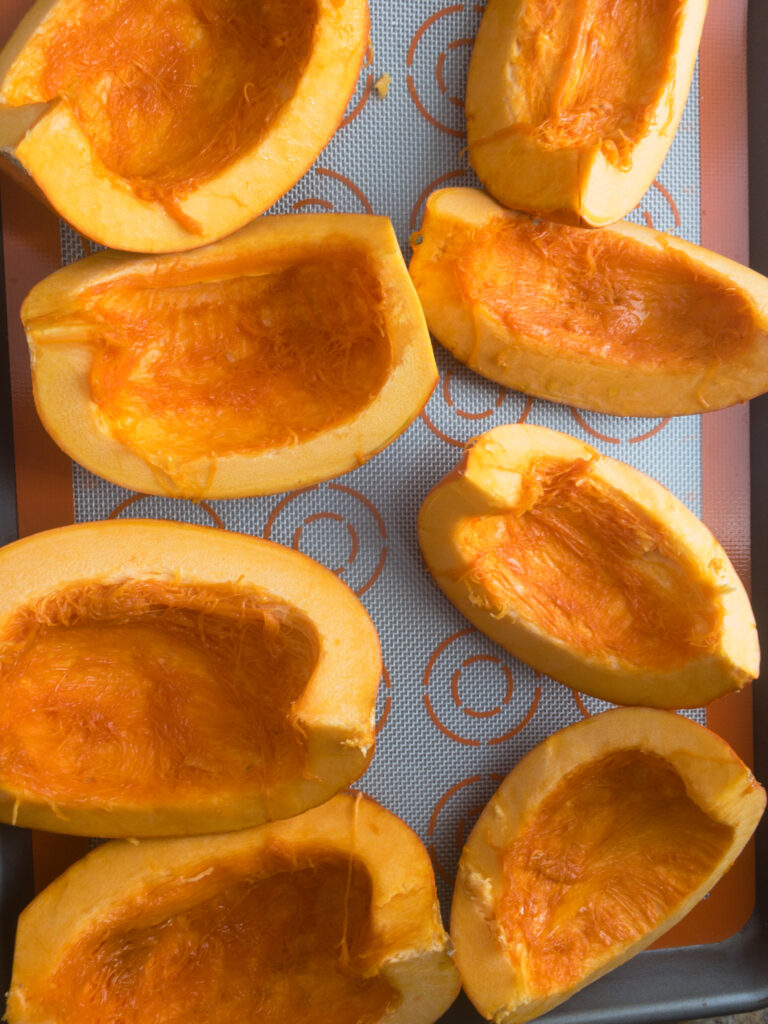 How hard can this be?
This recipe is quite easy in fact you can have it ready in under and hour! It comes together with such easy steps:
Chop up your pumpkin and roast it;
While it roasts, saute your onions and garlic;
Remove the skins of your pumpkins and mash this;
Combine the mashed pumpkin, your onion, garlic vegetable broth, heavy cream and seasonings;
The mixture will look chunky and not smooth at all;
Blend this mixture until it is smooth and creamy;
Enjoy;
Leftovers taste great so do not fret if you have a left over bowl of two 🙂
This recipe is a fall favorite! Enjoy!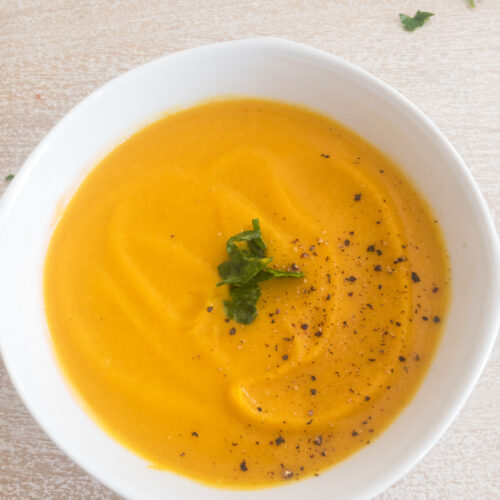 Fresh Roasted pumpkin soup
Ingredients
1 large (or two medium) pumpkins

about 4 pounds

6

tbsp

olive oil

divided

1

medium onion

purple or yellow

4

large

garlic cloves

1/2

tsp

ground cinnamon

1/2

tsp

ground nutmeg

1/2

tsp

salt

4

cups of vegetable broth

1/2

cup of heavy cream

1 and 1/2

tbsp

maple syrup
Instructions
Preheat oven to 425°F or 220° C

Pit your pumpkin and quarter it, then brush them with about 1 tbsp of olive oil. Finally, roast it in the oven for about 35-40 minutes or until you can easily poke a fork into the skin.

While the pumpkin roasts saute your onions and garlic with some olive oil until it is soft.

Remove your pumpkin from the oven and remove the skin, mash it and add it to your onions and garlic. The consistence should be of dough. Add in your cinnamon and nutmeg.

To your pumpkin "dough" add your vegetable broth and heavy cream mix until it has combined into a clumpy soup. Add in maple syrup and stir.

Transfer your soupy pumpkin soup and blend until smooth. You can also use an immersion blender.Return to your saucepan and heat up. Enjoy warm, leftovers taste great and store for up to 7 days. Do Not Freeze
Notes
Vegan? Replace the heavy cream with some creamy coconut milk or coconut cream Using Canned pumpkin puree? Instead of roasting the pumpkin, you can substitute two to three cans of pumpkin purée. Just skip steps 1 and 2, and add two cans of pumpkin purée in step 4. You'll still want to blend the soup for the best texture; add more pumpkin purée at that point if you'd like thicker soup. Want to toast your pumpkin seeds? Pick off all the flesh bits from the seeds and discard them.  Toss the seeds with a little olive oil, a sprinkle of salt and any other seasonings that sound good (I tossed my pumpkin seeds in some curry powder and some other spice). Toss to coat. Line a small, rimmed baking sheet with parchment paper and arrange the pumpkin seeds in a single layer. Roast for 13 to 16 minutes, until the seeds are fragrant and toasty.