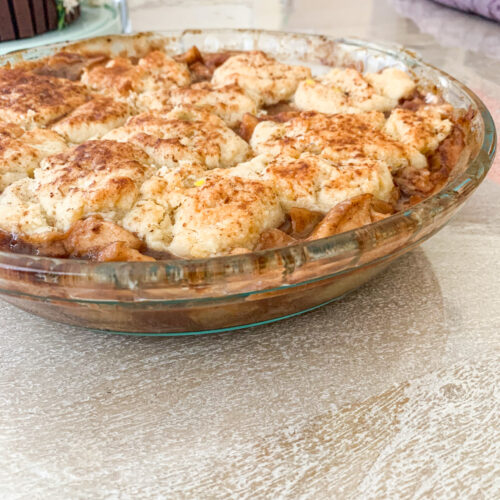 Peach Cobbler
Super easy fruity summer treat
Ingredients
8-9

medium

peaches

pealed and cut into cubes

1/4

cup

packed brown sugar

dark or light

1

tablespoon

corn starch

1

tablespoon

lemon juice

1/2

tsp

pure vanilla extracts

1/2

tsp

ground cinnamon

⅛

tsp

ground nutmeg

⅛

tsp

salt
Biscuit
100

g

all purpose flour

50

g

granulated sugar

1

tsp

baking powder

1/2

tsp

salt

2

tbsp

water

cold

40

g

pine nuts

cold

100

g

unsalted butter
egg wash: 1 egg, 1 tablespoon milk
optional: 2 tablespoon brown sugar, 1 tsp ground cinnamon
good quality ice cream

vanilla
Instructions
Preheat the oven to 375°F (177°C) and grease a 9×13 inch pan. or a 24in circle pie pan 🙂

Make the filling: In a large bowl, stir the peach chunks, brown sugar, cornstarch, lemon juice, vanilla, cinnamon, nutmeg, and salt together until thoroughly combined. Spoon filling into prepared pan and bake for 10-20 minutes. Remove from the oven and set aside as you prepare the topping. Keep oven on.Make the topping:  If you're using a food processor, whiz up your pine nuts, then tip in your flour, sugar and salt. Cut your butter up into cubes, add to the processor and pulse until the mixture resembles fine breadcrumbs. Tip this mixture into a bowl.

If working by hand, pop your pine nuts into a sandwich bag and bash them up with a rolling pin. Tip them into a bowl with the flour, sugar and a pinch of salt, then use a box grater to grate in your chilled butter. Using your fingertips, gently rub the butter into the mix until it starts to resemble fine breadcrumbs. At this point add 2 tablespoons of water to bring everything together, and when you have a firm dough put it to one side.Remove your dish of peaches from the oven and use a tablespoon to dollop 6 big spoonfuls of dough on top of the peaches brush with egg and milk wash and sprinkle sugar and cinnamon. Return the dish to the oven for around 20 minutes. When it's bubbling, golden on top and nearly perfect, get your ice cream out of the freezer.
Notes
Make Ahead & Freezing Instructions: This is one of those recipes that should be prepared and baked right away. The biscuit topping won't rise as much if it is not immediately baked. You can, however, freeze the prepared peach filling for up to 3 months. Allow to thaw in the refrigerator before using. It will be quite juicy, but that's not a bad thing in cobbler! You can also freeze the baked cobbler for up to 3 months. Thaw overnight in the refrigerator and warm in the oven before serving.