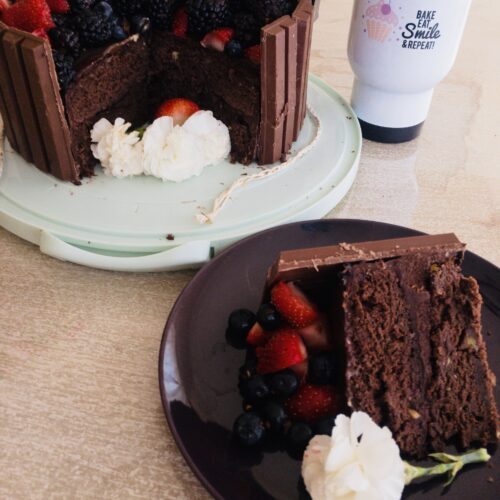 Chocolate Zucchini Cake
This super rich and moist chocolate zucchini cake is topped with milk chocolate fudge frosting- you won't even taste the vegetables!
Ingredients
2

cups

all-purpose flour

6

tbsp

unsweetened natural cocoa powder

1

tsp

cinnamon

2 1/2

tsp

baking soda

1/4

teaspoon

baking powder

1/3

cup

butter

1

cup

granulated sugar

2

large

eggs

room temp

1

cup

buttermilk

1

tsp

pure vanilla extracts

1 1/2

cups

shredded zucchini

about 3 medium ones

1/4

cup

semi sweet chocolate chips

optional
2

cups

semisweet chocolate chips or chopped chocolate bar

(or milk chocolate)

2-3

tbsp

cold (take out of the fridge for 5 minutes) heavy cream

2

tbsp

powdered sugar

1

tbsp

natural cocoa powder, such as Hershey's

2

tsp

full-fat sour cream at room temperature
Instructions
Preheat oven to 350°F (177°C). Grease two 8×2 inch cake pans. (Make sure they're at least 2 inches high, deep dish style.) Set aside

Make the cake: Whisk the flour, cocoa powder, baking soda, baking powder, and cinnamon together in a large bowl. In another large bowl using a handheld or stand mixer fitted with a paddle or whisk attachment, beat the butter, granulated sugar, eggs, and vanilla, and zucchini together until combined. pour the dries in and alternate with adding the buttermilk

Pour batter evenly into cake pans. Bake for around 25-32 minutes or until the cakes are baked through. To test for doneness, insert a toothpick into the center of the cake. If it comes out clean, it is done. Allow cakes to cool completely in the pans set on a wire rack. The cakes must be completely cool before frosting and assembling.

For the Frosting: melt chocolate chunks/ chips is 30 second intervals (I do this about 3 times, do not overmelt) the chocolate should NOT be runny but rather thick

then add the sugar and cocoa and sour cream and mix

let the mixture come to room temp. do not worry, it will not harden if you used chocolate chips 🙂

Assemble and frost: First, using a large serrated knife, slice a thin layer off the tops of the cakes to create a flat surface. Discard (or crumble over ice cream!). Place 1 cake layer on your cake stand or serving plate. Evenly cover the top with frosting. Top with 2nd layer and spread the remaining frosting all over the top and sides. Pipe any leftover frosting on top. (I used Ateco #30 tip.) Decorate with chocolate sprinkles or mini chocolate chips if desired. Slice and serve.

Cover any leftover cake and store at room temperature for 2-3 days or in the refrigerator for up to 5 days.
Notes
Bundt Cake:  Bake 40 minutes and garnish with walnuts
Cinnamon: is manadory
Butter: can be reduced to 1/4 cup
This recipe has less sugar than any other cake you will find in the great big internet! It will taste then times better! The frosting recipe helps balance out the cakes flavor! And I promise you, you will never ever find a cake or frosting recipe like this again! Enjoy 🙂
Thank you My Dear Grandma for this great recipe!
For those of you that are wondering this frosting is amazing it really complements the cake! I will be adding the recipe By August 21 for now it is only published on this cake recipe, Of you are reading this after august 21, 2020 please check the frosting category!