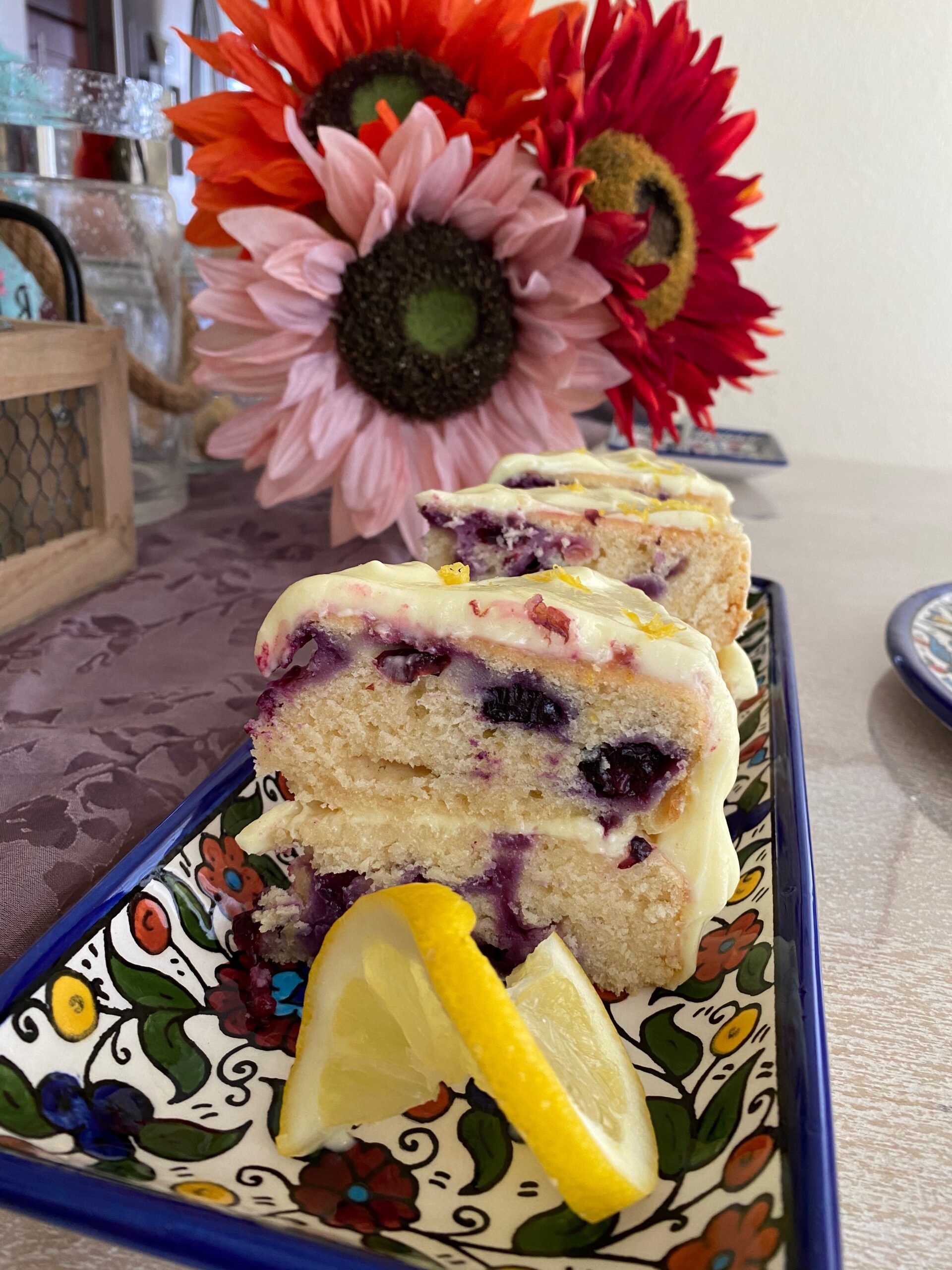 Lemon Blueberry Layer Cake
Sunshine-sweet lemon blueberry layer cake dotted with juicy berries and topped with lush cream cheese frosting. One of the most popular cake recipes on my blog!!
Fresh lemons. Use fresh lemon juice and lemon zest in the cake batter. None of that lemon extract stuff! How to choose lemons at the store? Make sure the lemons you choose are smooth-skinned and heavy for their size. That way you know they are extra juicy.
Buttermilk. Known for providing exceptional moisture to baked goods, buttermilk leaves each bite tender and lush. If you don't have buttermilk, you can use whole milk instead with some lemon juice added to that, see my note please.
Brown sugar & 4 eggs: I've found that lemon cakes can easily be dry and gritty, so add some moist-making ingredients like brown sugar, eggs, and buttermilk. Buttermilk, a little brown sugar, and 4 eggs assure the final product is as moist as it could possibly be without being wet.
Fresh or frozen blueberries: Fresh or frozen blueberries are OK. If using frozen, do not thaw.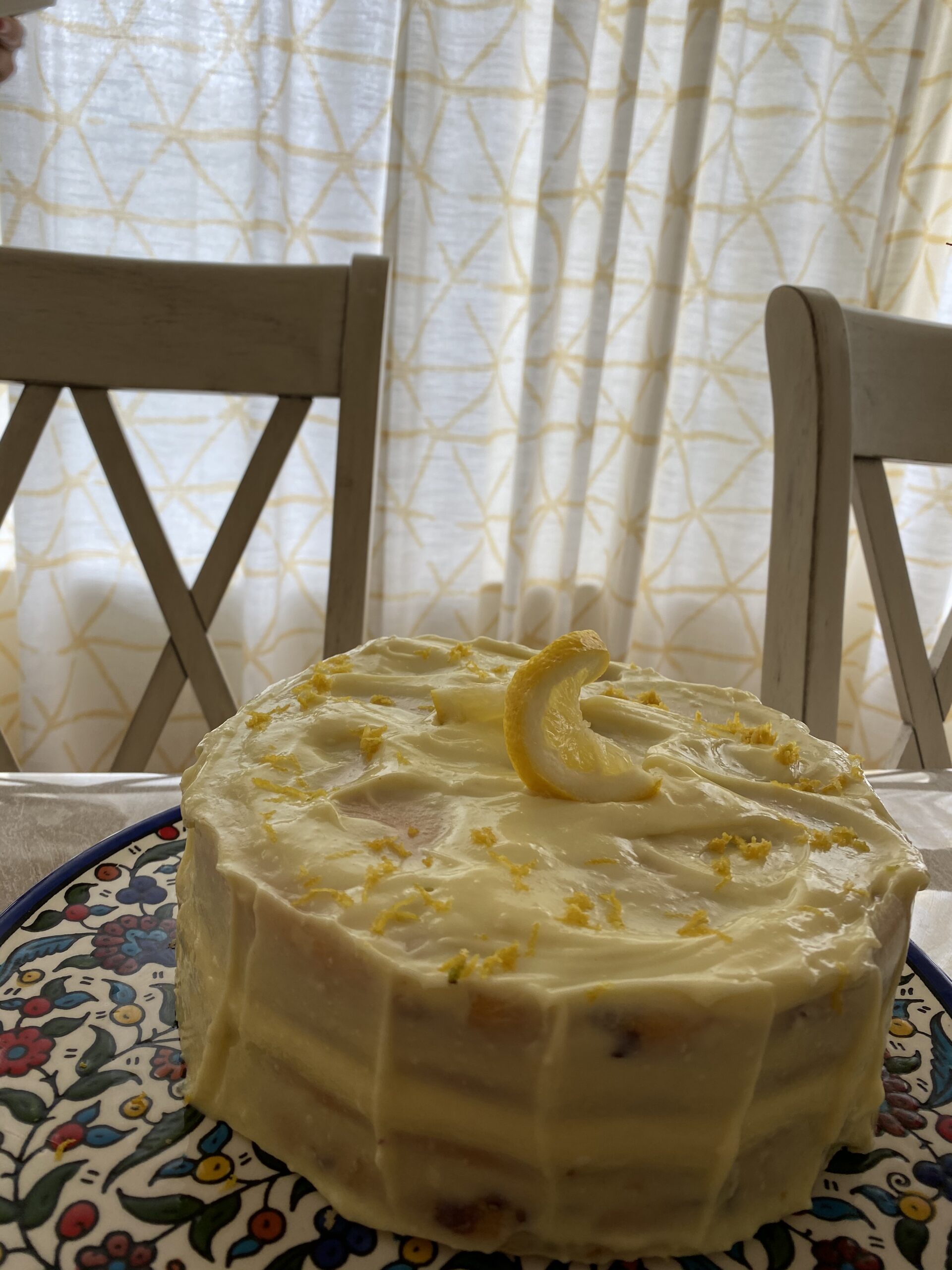 I love this lemon blueberry cake because the blueberries DO NOT sink to the bottom of the cake. Why not? The batter is thick. When you have a thin batter, heavy fruit or add-ins will sink to the bottom. I also recommend tossing the blueberries in a little flour too.
Cream Cheese Frosting
This cake is moist and soft, somewhere between a vanilla layer cake and pound cake. Silky cream cheese frosting is the perfect finishing touch– it literally tastes like spreadable cheesecake. The cream cheese frosting goes onto the cake so easily, so it's a really simple cake to decorate. Doesn't need to be neat– its haphazardness adds to its charm, don't you think?
Decorate with blueberries, lemon zest, lemon slices, whatever you like!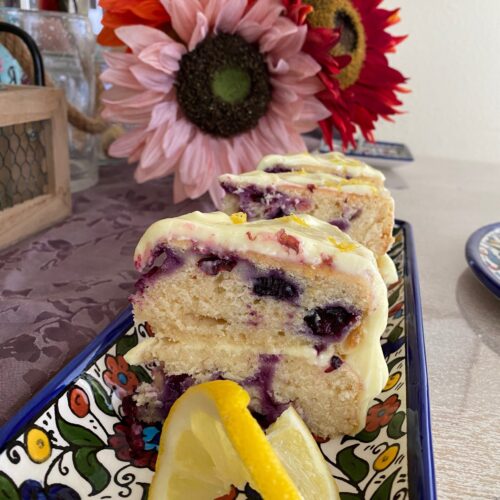 Lemon Blueberry Cake
This cake is moist, fluffy and so flavorful I know that you will love it!
Ingredients
1

cup

unsalted butter

softened

1 ¼

cup

granulated sugar

1/2

cup

packed light brown sugar

4

eggs

(3 large eggs work too)

1

tbsp

pure vanilla extracts

3

cups

all-purpose flour

sifted

1

tablespoon

baking powder

yes, tablespoon

1/2

tsp

salt

1

cup

buttermilk

see note

2

tbsp

lemon zest

3 lemons

1/2

cup

lemon juice

3 lemons

1 1/2

cup

fresh or frozen blueberries

do not thaw if frozen

1

tbsp

all-purpose flour
Frosting:
8

oz

 full-fat brick style cream cheese, softened to room temperature*

1/2

cup

unsalted butter

room temp

3 ½

cups

powdered sugar

1-2

tbsp

heavy cream

1

tsp

pure vanilla extracts

pinch of salt

for taste
Instructions
Preheat oven to 350°F (177°C). Grease round 8 i n cake pans, line with parchment paper, then grease the parchment paper. Parchment paper helps the cakes seamlessly release from the pans.

To Make the cake:using electric mixer with a paddle attachment, beat the butter on high until creamy – about 1 minute. Add granulated and brown sugars and beat on medium-high speed until creamed, about 2-3 minutes. Add eggs and vanilla. Beat on medium speed until everything is completely combined, about 2 full minutes. Scrape down the sides and bottom of the bowl as needed.

In a large bowl, whisk together the flour, baking powder, and salt. Slowly add the dry ingredients to the wet ingredients. Beat on low speed for 5 seconds, then beat in the milk, lemon zest, and lemon juice *just* until combined. Toss the blueberries with 1 Tablespoon of flour and gently fold into the batter. Batter is extremely thick. Do not over-mix. Over-mixing will lead to a tough, dense textured crumb.

Spoon batter evenly into 3 prepared cake pans. If only using 2 cake pans, your bake time will be longer. Bake the three layers for about 21-25 minutes or until a toothpick inserted in the center comes out clean. Remove from the oven and allow to cool completely before frosting.

o Make the frosting: Using a handheld or stand mixer with a paddle attachment, beat cream cheese and butter together on medium speed until no lumps remain, about 3 full minutes. Add confectioners' sugar, 1 Tablespoon cream, vanilla extract, and salt with the mixer running on low. Increase to high speed and beat for 3 minutes. Add 1 more Tablespoon of cream to thin out, if desired.

Assemble and frost: First, using a large serrated knife, trim the tops off the cake layers to create a flat surface. Place 1 layer on your cake stand. Evenly cover the top with cream cheese frosting. Top with 2nd layer, more frosting, then the third layer. Top with frosting and spread around the sides. The recipe doesn't make a ton of frosting, just enough for a light frost. Top with blueberries or lemon garnish if desired. Refrigerate for at least 45 minutes before cutting or else the cake may fall apart as you cut.
Notes
Bundt Cake: I haven't tested this as a bundt cake but it will likely be a bit denser than the original layer version since it's one tall layer. It will take longer to bake.
Cupcakes: Put less blueberries and bake for less time, test my bounce bake test (when cupcakes look ready tap them, if they bounce back they are ready to cool)
Eggs: Room temperature eggs are recommended because they mix easily and quickly into the cake batter, reducing the risk of over-mixing (and an overly dense cake!). Place eggs into a bowl of warm water for 5 minutes before using or set the eggs out when you set out your cream cheese/butter for the recipe.
Flour: Be careful not to "overmeasure: your flour. This will result in a heavy cake. For a lighter crumb, you can use the same amount of sifted cake flour instead.
Buttermilk: Buttermilk helps produce a supremely moist cake. If you don't have buttermilk, use whole milk instead, adding a teaspoon of white vinegar and letting it sit out with the milk for 5 minutes will do the trick, it will nearly substitute the buttermilk for you! You can use lower fat or nondairy milks in a pinch, but the cake won't taste nearly as rich and moist.
Lemons: You need about 2 Tablespoons of lemon zest and 1/2 cup lemon juice.
Cream Cheese: Use brick-style cream cheese. Not cream cheese spread. As it will hold its shape better… But when in a rush go ahead and use your tub cheese.
Cream: Heavy cream with 30% or more milk fat preferred in frosting for the most delicious and creamiest texture. Milk works too but I really recommend heavy cream (put less milk or you may end up with liquid frosting)!