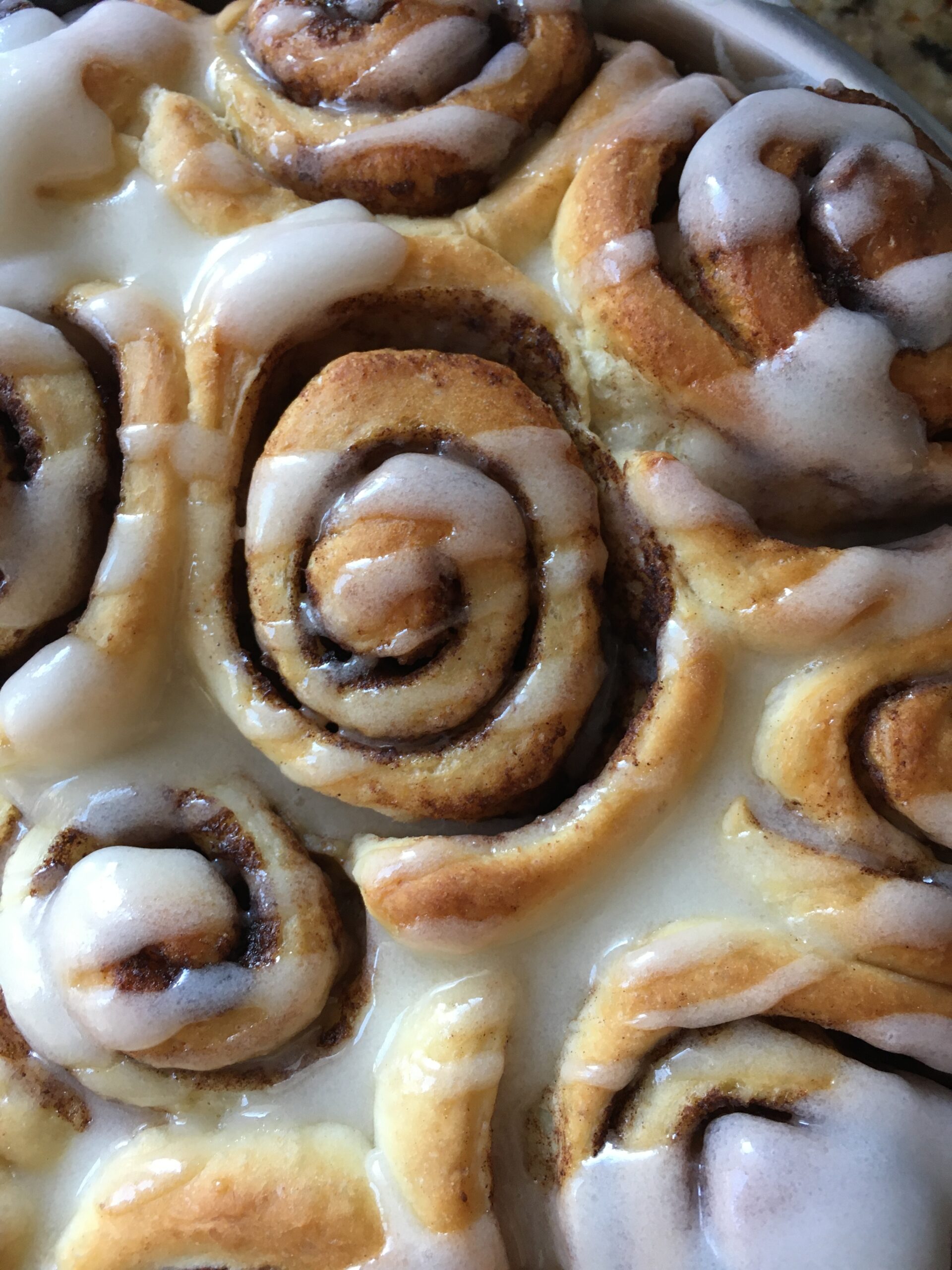 There is something special about a homemade cinnamon roll. They are soft, fluffy, sweet, cinnamon-y and are perfect to enjoy all year round! You will love this flavorful and fluffy dough that is beautifully browned and is tied all together with a sweet frosting that taking less than 30 seconds to make!!
Fluffy 🙂
So what makes this dough fluffy?
Well, there are a few things that contribute to the fluffiness of our tasty cinnamon rolls! The first is the egg which has some healthy fats that make sure our dough is light and fluffy. The butter also makes it fluffy. The fat has a lot to do with the fluffiness of the dough and the full outcome.
The perfect roll
If you watch my video (down below), you can see that I use string to make this the perfect roll. I found that using a knife does not get as clean of a cut as using a string. Watch the video to see how it is done 🙂
Yeast
Yeast is a tricky ingredient you can either love it or hate it! This recipe makes using yeast very practical and easy. You don't have to worry about the yeast that much. To make the perfect rolls, try to use not too hot or too warm of a melted fats mixture. You may kill the yeast. To activate it you need warm water. Not too cold, not too hot. I like to use instant yeast here because it activates and grows faster. You can however interchange it with dry yeast. Please see the recipe note
Flavor and Sweetness
The flavor of the hole cinnamon roll is the cinnamon! The filling is surprisingly easy and does not have as much cinnamon as you would think… The filling just combines sugar and cinnamon with butter to stick it on and make it creamy and buttery. The sweetness of this tasty treat mainly comes from the icing which is very easy and just combines cream, sugar and some flavor. You can also interchange this with coffee for more flavor.
Knead
Knead like a pro!
**Pro Tip:it's important to note that the dough will be tacky and soft yet strong. It shouldn't completely stick all over your hands, but if you touch it should feel tacky and not dry and floury. Don't be tempted to keep adding flour!**
Enjoy! and let me warn you.. these cinnamon rolls are better than any you have tried! They are 100x better than any store bought one! One more, Enjoy!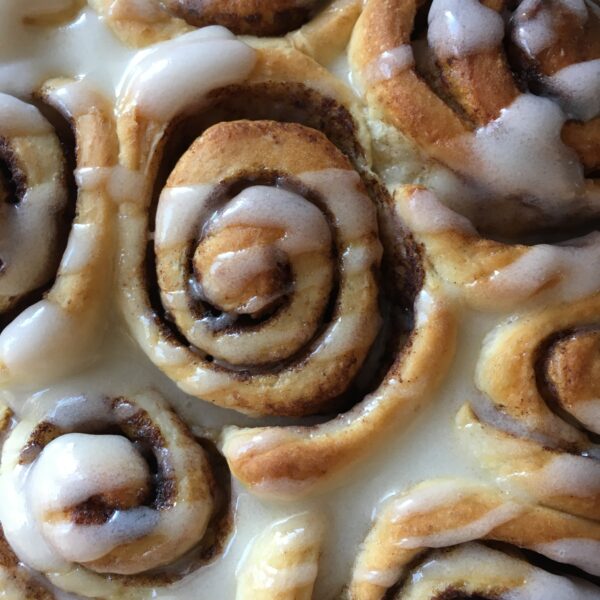 Cinnamon rolls
These easy cinnamon rolls are perfect for yeast beginners because they only require 1 rise. Each cinnamon roll is extra soft with the most delicious cinnamon swirl!
Ingredients
2 ¾

cup

all-purpose flour

¼

cup

granulated sugar

1

tsp

salt

2 ¼

tsp

instant yeast (1 packet) anyone works

(one pack is equal to 2 1/4 tsp)

½

cup

whole milk

1/4

cup

water

3

tbsp

unsalted butter

1

large

egg
Filling
3

tbsp

unsalted butter

extra soft

1

tbsp

ground cinnamon

1/4

cup

granulated sugar or brown sugar
Icing:
1

cup

powdered sugar

sifted

1/2

tsp

pure vanilla extracts

1-3

tbsp

heavy cream

or milk
Instructions
Whisk the flour, sugar, salt, and yeast together in a large bowl. Set aside.

Combine the milk, water, and butter together. Microwave or use the stove and heat until the butter is melted and the mixture is warm to touch. Pour into the dry ingredients, add the egg, and stir until it forms a soft dough.

On a lightly floured surface using floured hands, knead the dough for 3 minutes. Place in a lightly greased bowl, cover loosely, and let rest for about 10 minutes.

 After 10 minutes, roll the dough out in a 14×8 inch rectangle. Spread the softened butter on top. Mix together the cinnamon and sugar. Sprinkle it all over the dough. Roll up the dough tightly. Cut into 10-12 even rolls and arrange in a lightly greased 9-inch round cake pan or pie dish.

Tightly cover the rolls with aluminum foil or plastic wrap and allow to rise in a warm, draft-free environment for 60-90 minutes.

After the rolls have doubled in size, preheat the oven to 375°F (190°C). Bake for 25-28 minutes until lightly browned. If you notice the tops are getting too brown too quickly at about 15 minutes, loosely cover the rolls with aluminum foil and continue baking. (do not worry browning is normal and taking them out to put on foil won't hurt them)

Whisk the confectioners' sugar, vanilla extract, and milk together. Drizzle or spread over warm rolls.Cover leftover frosted or unfrosted rolls tightly and store for up to 3 days at room temperature or up to 5 days in the refrigerator
Notes
Baked rolls can be frozen up to 2-3 months. Thaw overnight in the refrigerator and warm up before enjoying. 
Yeast: I highly recommend instant yeast. If you only have active dry yeast, you can use that instead. Active dry and instant yeast can be used interchangeably in recipes (1:1). Active dry yeast has a moderate rate of rising and instant dry yeast has a faster rate of rising; active dry yeast will create a slower rise time let it rest for 1-4 hours.
Milk: Whole milk is ideal for this dough. If needed, you can substitute nondairy milk.