Click to Jump to Recipe
These super soft and chewy chocolate chip cookies are the most popular cookie recipe on my website. Melted butter, more brown sugar than white sugar, and an extra egg yolk guarantee the chewiest chocolate chip cookie texture. Big chocolate chunks promise chocolate in every single bite. The flavor and texture of these cookies is unparalleled by any other recipe. No mixer required!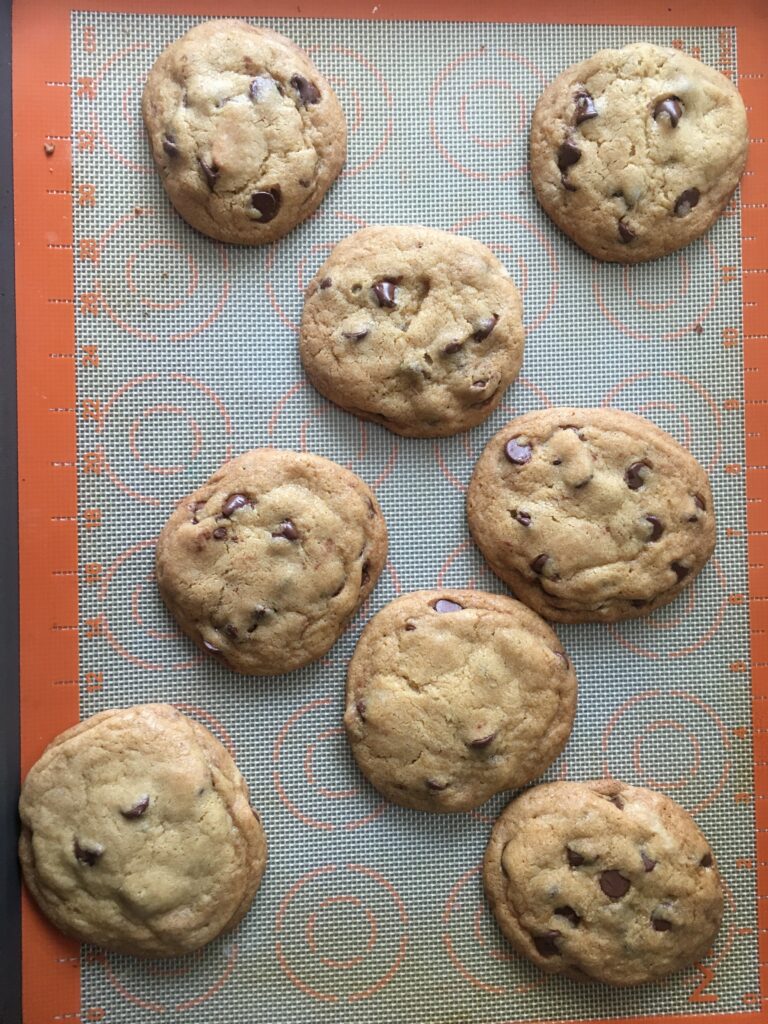 There are so many chocolate chip cookies out there! But This one I can guarantee is the best! with crisp edges and chewy centers! These cookies are:
The chewiest of chewy and the softest of soft!
Extra thick.
Bakery style with an under-baked center.
Exploding with chocolate!
These cookies are just great with a glass of milk!! Here, Watch me make them in my kitchen:
I have tested these cookies so many times just to make sure they hold their shape! (Do not worry I tested the awesome flavor as well)
How to Make these chewy cookies:
The cookie dough is made from standard ingredients: flour, leavener, salt, sugar, butter, egg, & vanilla. The ratios of those ingredients that make this recipe stand out from the rest. Mix 2 and 1/4 cups of flour with 1 teaspoon of baking soda (rather than baking powder), 1/2 teaspoon of salt, and my favorite: cornstarch. I use 1 and 1/2 teaspoons of cornstarch in this recipe.
Why cornstarch? Cornstarch gives the cookies that ultra soft consistency we all know and love. Plus, it helps keep the cookies beautifully thick. I have tested this recipes multiple times without corn starch and it will NOT work! Corn starch is a must, If you leave it out you will end up with very flat cookies with a not-so-cookie flavor
Use melted butter in this chocolate chip cookie recipe. Most of the cookies on my website call for creaming softened butter with the sugars. Chewy chocolate chip cookies require melted butter.
Why melted butter? Melted butter produces the chewiest cookies. It can, however, make your baked cookie greasy, so I made sure there is enough flour to avoid that from happening. If we use room temp. butter then we will have a cakey cookie
Since you are using melted butter, you don't need a mixer for this cookie recipe.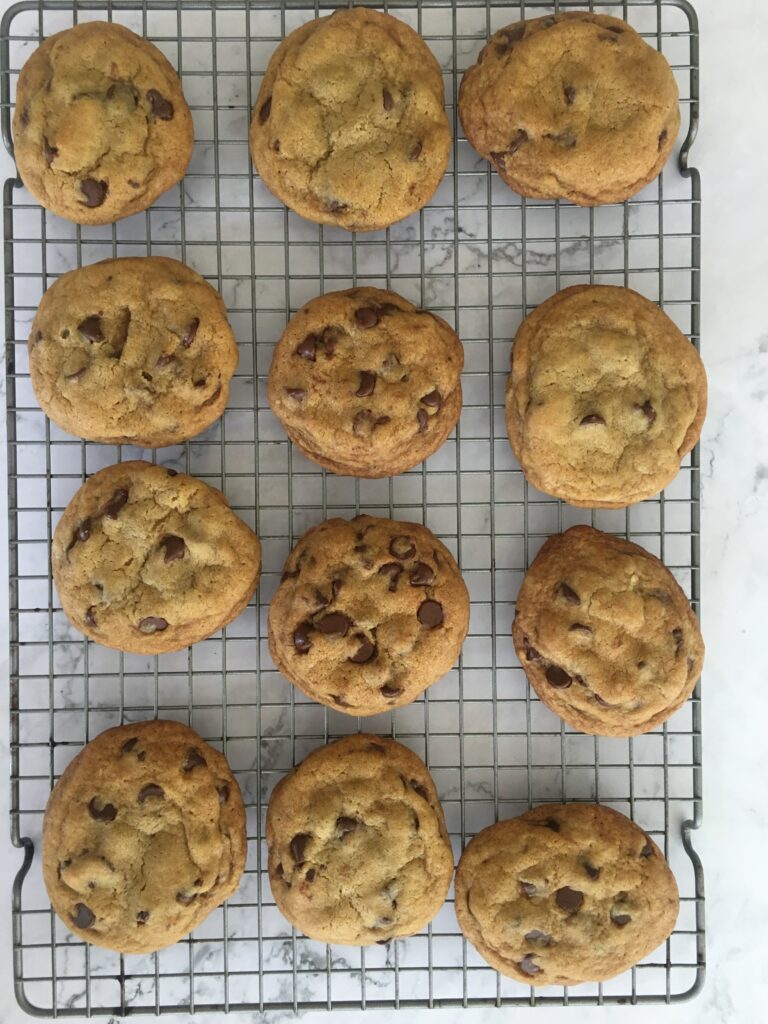 Use a mix of brown sugar and white granulated sugar in your chocolate chip cookies. I prefer more brown sugar than white granulated sugar because the moisture in brown sugar promises an extra soft and chewy baked cookie. White granulated sugar is still necessary though. It's dry and helps the cookies spread. A little bit of spread is a good thing.
Another way to promise a super chewy chocolate chip cookie is to use an extra egg yolk. The extra egg yolk adds richness, soft tenderness, and binds the dough. You will need 1 egg and 1 egg yolk. You can freeze the extra egg white in a ziplock bag for up to 1 month or use it to make my confetti cupcakes
Now that you understand all the components just follow my recipe tutorial for the dough, the chocolate chips may have a hard time sticking to the dough, just keep mixing, it will come together!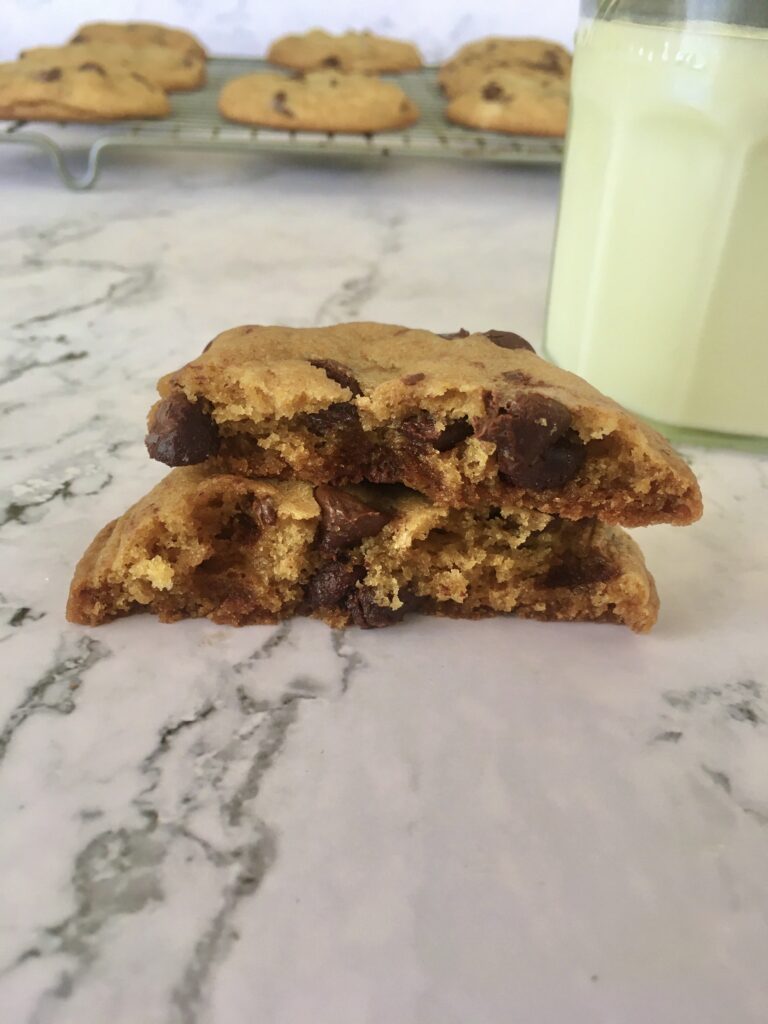 Chill the dough!
This step is the most important, it will make or break your cookies!
Chilling the cookie dough is so important! Unless you want the cookies to spread into a massive cookie puddle, chilling the dough is mandatory for this cookie recipe. It allows the ingredients to settle together after the mixing stage but most importantly: cold dough results in thicker cookies. Cover the cookie dough and chill the dough for at least 2-3 hours and even up to 3-4 days. After chilling, let your cookie dough sit at room temperature for 10 minutes before rolling into balls. Or roll it after the one hour mark and let it chill for 2 more hours
After chilling, sometimes I roll the cookie dough into balls and freeze them in a large zipped-top bag. Then I bake them straight from the freezer, keeping them in the oven for an extra minute. This way you can have just one of two cookies whenever you want!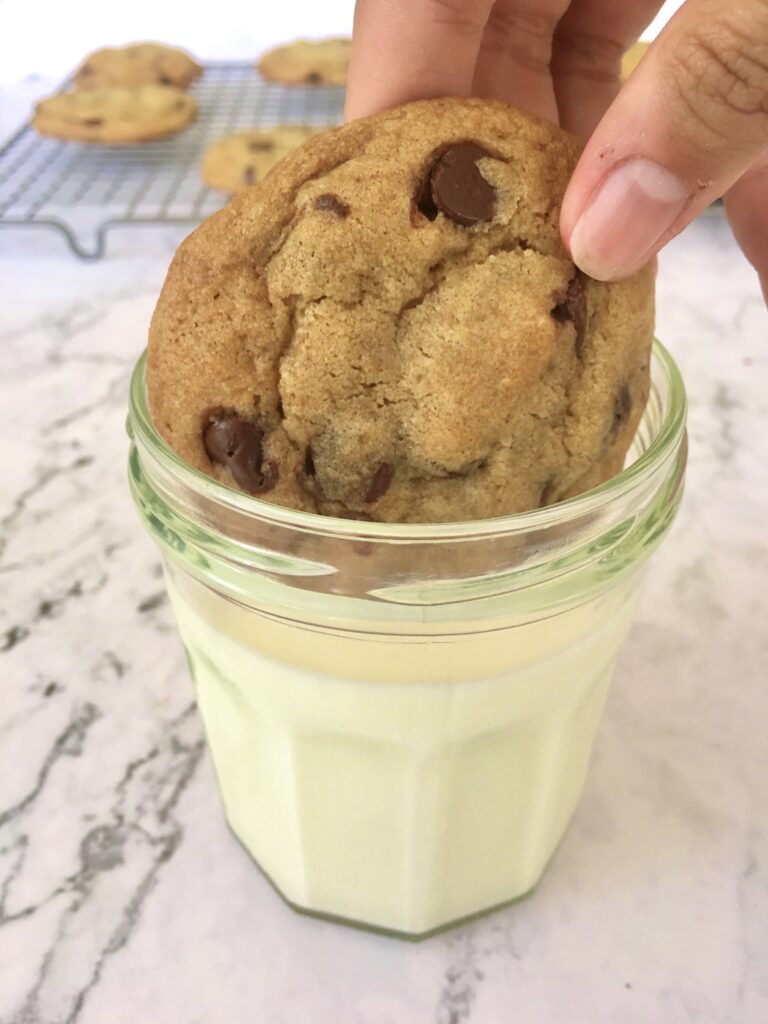 Sizing:
These cookies are very large! about 3 Tablespoons of dough is rolled to make one cookie. The batch only makes about 16 cookies since you will be rolling them so large. Feel free to make the cookies smaller (about 2 Tablespoons of dough per cookie) instead. If you do that, be sure to reduce the baking time by a couple minutes.
When you remove the cookie dough from the refrigerator after chilling, the dough will be slightly crumbly. The warmth of your hands rolling it will make it stay intact. Roll the cookie dough balls taller, rather than wide as I discussed and showed in my video above. This little tried-and-true trick will result in thicker cookies. I do it for every single cookie I bake.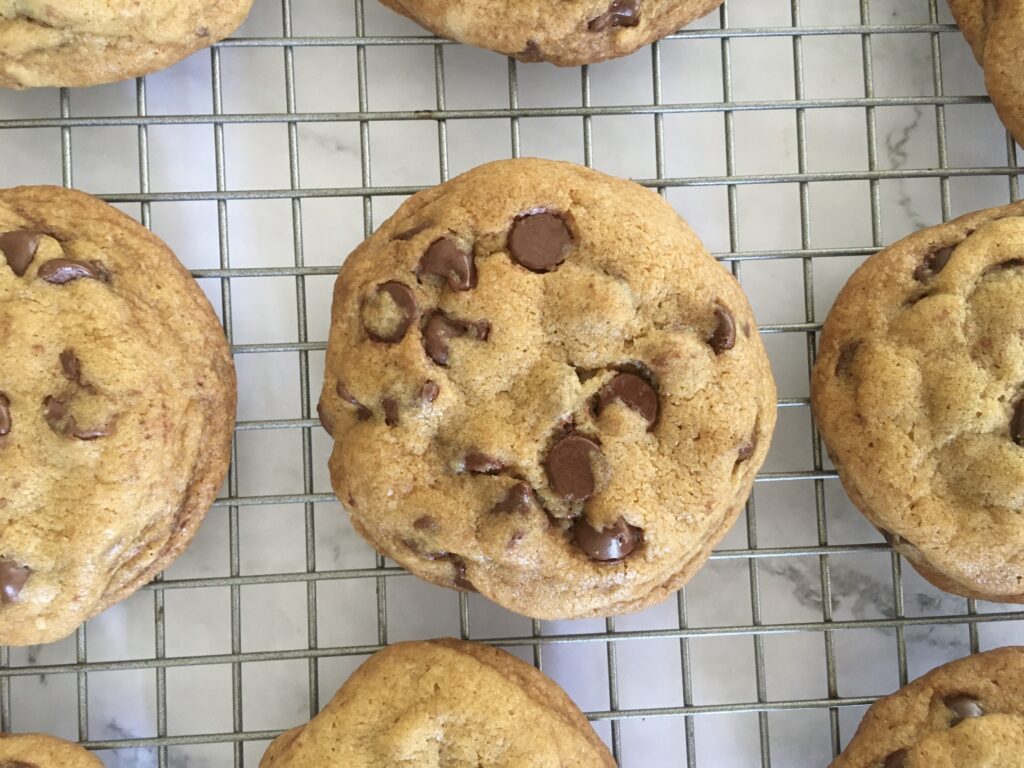 My cookie's Secrets:
Under baked cookies are the secret to softness.
Using cornstarch in the dough is another secret to softness, as well as the secret to thickness, do not skip
Using more brown sugar than white sugar results in a moister, softer cookie.
Adding an extra egg yolk increases chewiness.
Rolling the cookie dough balls to be taller than wider increases thickness.
Using melted butter (and slightly more flour) increases chewiness.
Chilling the dough results in a thicker cookie.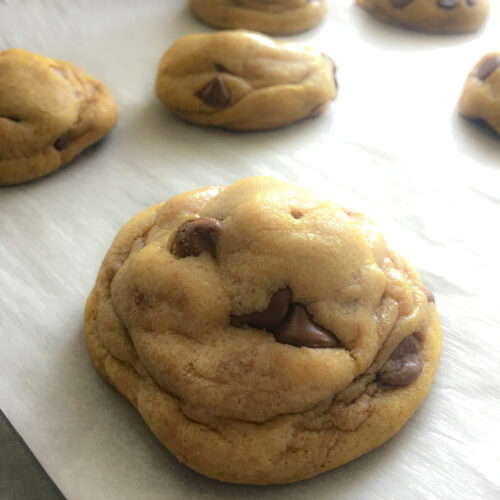 Chewy Chocolate chip cookies
These amazing cookies are always chewy, and will always have a place in my heart
Ingredients
2

and 1/4 cups (280g) all-purpose flour

(1 teaspoon baking soda

1

and 1/2 teaspoons cornstarch*

1/2

teaspoon

salt

3/4

cup

(1.5 sticks or 170g) unsalted butter, melted & slightly cooled*

3/4

cup

(150g) packed light or dark brown sugar

1/2

cup

(100g) granulated sugar

1

large egg + 1 egg yolk, at room temperature

2

teaspoons

pure vanilla extract

1

cups (225g) semi-sweet chocolate chips or chocolate chunks
Instructions
Whisk the flour, baking soda, cornstarch, and salt together in a large bowl. Set aside.

In a medium bowl, whisk the melted butter, brown sugar, and granulated sugar together until no brown sugar lumps remain. Whisk in the egg, then the egg yolk. Finally, whisk in the vanilla extract.

Pour the wet ingredients into the dry ingredients and mix together with a large spoon or rubber spatula. The dough will be very soft, yet thick.

Fold in the chocolate chunks or chips, I have shown photos of both. They may not stick to the dough because of the melted butter, but do your best to combine them. Cover the dough and chill in the refrigerator for 2-3 hours or up to 3-4 days. Chilling is mandatory. I highly recommend chilling the cookie dough overnight for less spreading.Take the dough out of the refrigerator and allow to slightly soften at room temperature for 10 minutes.

Preheat oven to 325°F (163°C). Line two large baking sheets with parchment paper or silicone baking mats. (Always recommended for cookies.) Set aside. see photo on right using chunks not chips

Roll the dough into balls, about 3 Tablespoons of dough each. The dough will be crumbly, but the warmth of your hands will help the balls stay together. Roll the cookie dough balls to be taller rather than wide, to ensure the cookies will bake up to be thick.

Place 8 balls of dough onto each cookie sheet. Press a few more chocolate chips/chunks on top of the dough balls for looks, if desired.

Bake the cookies for 12-13 minutes. The cookies will look very soft and underbaked. They will continue to bake on the cookie sheet.

Allow to cool on the cookie sheet for 10 minutes before transferring to a wire rack to cool completely.Cookies stay fresh covered at room temperature for up to 1 week.
Notes
Make Ahead & Freezing Instructions: You can make the cookie dough and chill it in the refrigerator for up to 2-3 days. Allow to come to room temperature then continue with step 4. Baked cookies freeze well for up to 3 months. Unbaked cookie dough balls freeze well for up to 3 months. Bake frozen cookie dough balls for an extra minute, no need to thaw.
Cornstarch: If you don't have cornstarch or don't want to use it, simply leave it out. The cookies are still very soft. but very flat!! I always recommend the use of cornstarch and if your cookies expanded add corn starch, if you leave it out, you cookies will taste fine but will look like a pool of butter! :/
Butter: Salted butter can be used instead. Reduce salt in the cookie dough to 1/4 teaspoon.
Room temperature egg + egg yolk are best. Typically, if a recipe calls for room temperature or melted butter, it's in good practice to use room temperature eggs as well. To bring eggs to room temperature quickly, simply place the whole eggs into a glass of warm water for 5 minutes. What to do with the extra egg white? Make may favorite: Confetti Cupcakes! YAY!!
Inspired By Sally's Baking addiction
If you need help watch my video, it is in my blog post above (scroll up please)