This recipe was requested by some of you 🙂 Enjoy
As I went to make this caramel popcorn the other day, the memory of going to the theater with my family came to mind. I remember the tasty popcorn I would eat as I watched the action on the large screen! This recipe tastes so much better than any other popcorn you will have! This Caramel Popcorn is spectacularly delicious and not meant for compulsive eaters because It is utterly addictive. I was worried I wouldn't have any Caramel Popcorn left to photograph because I couldn't keep my hands off it!
Making regular Caramel is difficult and I have never (and hopefully ever) made it before! Since it was requested my a reader I wanted to develop a go to easy recipe that your kids can make!! Please remember that Caramel gets very hot (hotter than water) and is very dangerous! Please be careful and follow my recipe with caution!
This recipe is semi home made! You will need 3 things:
High Quality Chewy Carmels
salted and butter popcorn (you can even use the microwave popcorn)
and finally: water
The secret for the BEST Caramel Popcorn is to start with Microwave Theater Popcorn. Theater popcorn comes buttered and salted and is already delicious before we even envelop it in caramel. Buttered microwave popcorn enhances the buttery flavor that is essential to the caramel taste. If you want to make your own popcorn, that is totally fine – see section below for making your own popcorn.
HOW DO I GET RID OF POPCORN KERNELS?
Nothing ruins Caramel Popcorn more than biting into an un-popped kernel. To quickly and easily get rid of kernels, pour your popped popcorn over a cooling rack – the kernels will fall through and your popcorn will stay on the rack – SO much easier than picking out individual kernels.
The caramel is ready in under 5 minutes and the popcorn takes less than 5 as well! The chill time that lets you popcorn caramels harden (optional, but I do this because we do not like it sticky!! recommended if you have kids)
You can make this homemade Caramel Popcorn as chewy or as crispy as you like, but it is meant to be on the crispy, crunchy side. The fridge and oven do the magic
If you spend less time boiling your caramel, the popcorn will be chewier and if you spend more time boiling your caramel, it will be crispier BUT it will also be harder to spread. So I suggest boiling the caramel just for 5 minutes as called for in the recipe then adapting the texture with the baking time. Less baking time = chewier popcorn, longer baking time = crispier popcorn harder.
Optional:
Heat oven to 200°F.
Place popcorn in large roasting pan or jelly roll pan.
Bake for 15-30 minutes, stirring every 15 minutes. If you cook for closer to 45 minutes, keep an eye on it towards the end to avoid burning the caramel.
After Caramel Popcorn has cooled, store it in an airtight container. When stored in an air-tight container, homemade Caramel Popcorn will be good for up to five days.
I hope you all enjoy this better than theater's Caramel popcorn!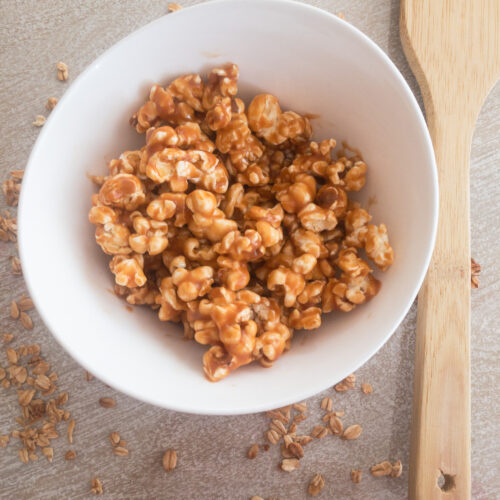 Caramel Popcorn
Semi Homemade 5 minute Caramel popcorn recipe!! Better than theater popcorn!
Ingredients
2

cups

popped popcorn

salted and buttered

1/2

cups

chewy caramels

high quality for best results

1/8

cup

water
Instructions
On medium heat combine the water and chewy caramels and keep stirring until melted (4-7 minutes)

meanwhile, pop your popcorn (I recommend doing this ahead and letting it cool)

let the caramel cool and thicken

spoon the caramel onto the popcorn until fully covered! Spread evenly onto a sheet and let cool for 1 hour at room temp or 30 minutes in the fridge (or just until no longer sticky)
Notes
Can be stored at room temp for up to 3 days and refrigerated for up to five
You can of course bake these after adding the popcorn for a crispier texture I prefer to just chill them 🙂
For best results do not freeze 🙂
Please leave a comment and rate this recipe (if you have tried it) ! I would love to hear from you and what you think! Do you have any other requested recipes?