This recipe is truly delicious and unique! You will absolutely love this crunchy filo dough, stuffed with cozy walnuts, stretchy cheese and smothered in a sweet sauce.
What is this كلاج
كلاج is a delicious dessert enjoyed all over the middle east! It is a crunchy filo dough stuffed with a special sweet cheese or a cozy cinnamon walnut filling. It is smothered in a deliciously sweet syrup. It is in a way very similar to Kunafa. It is also very easy to make and yields delicious results. This recipe is wonderful during Ramadan.
How is it Made?
There are multiple ways to make كلاج, and both are easy (and delicious). In this recipe I will show you how to make the roll method (which I think is easier and yields results that always turn out. This method is very easy.
To start, you will need to find "filo dough" or "كلاج dough" or "baklava dough". The dough is frozen and is typically a thin sheet. as shown in the photo bellow.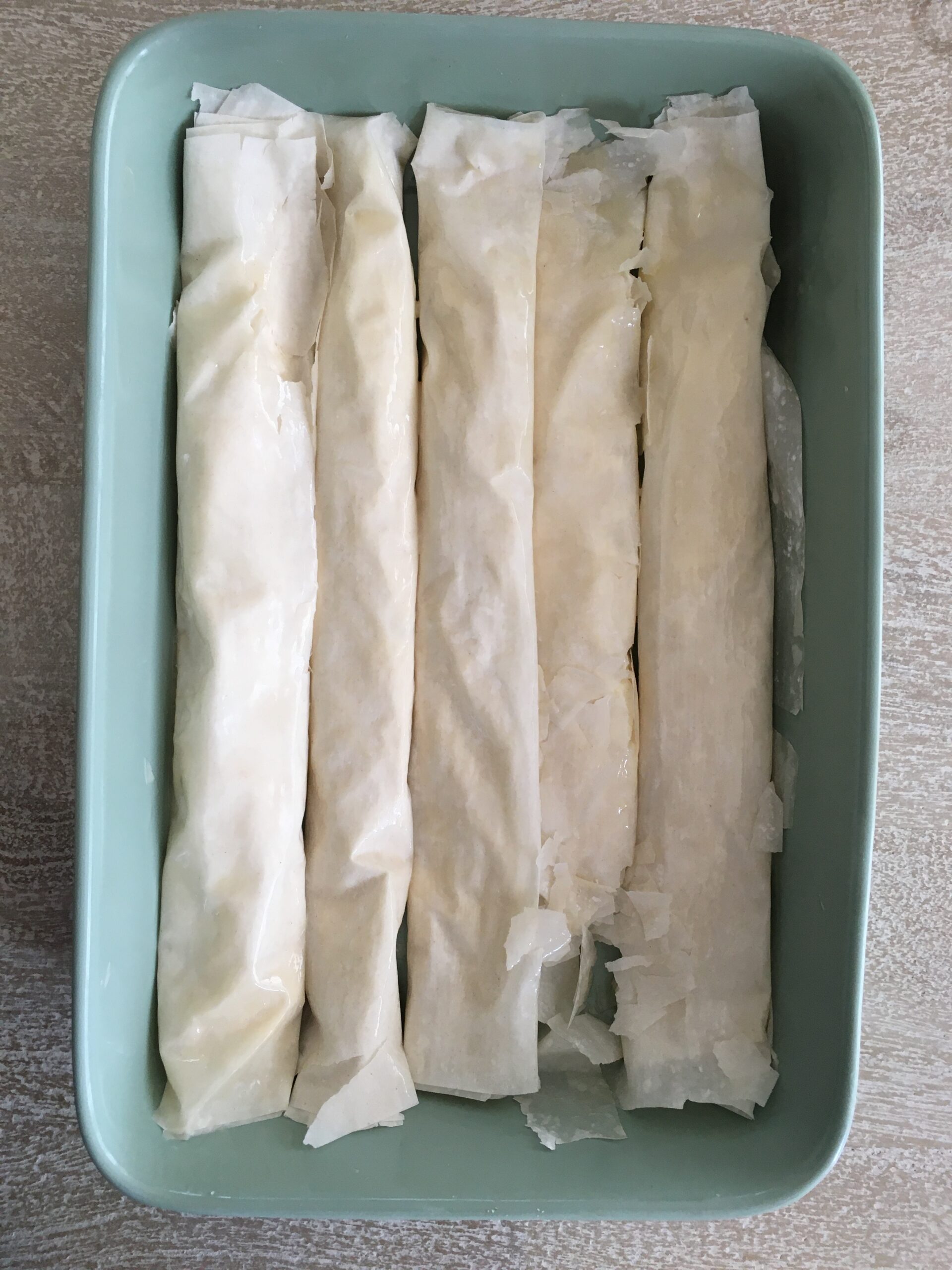 It is normal for the dough to have a few reps as it is *very* fragile.
Next, you need to make your filling, it is very easy and delicious. You can choose to make both fillings (both in recipe box bellow) or you can choose to just make one. The best part about this recipe is that you can make it in any amount and in any size.
Finally, you will need to roll them. Add a generous amount of filling evenly spread at the bottom of a roll. spread your melted butter all over the dough and roll. There is not much of a need to do anything with the ends. With the ends you can roll it like a burrito to make it an easy one serving.
Note: Cheese takes about 5-10 minutes longer than the walnut. You can open the oven for the recipe, as it does not mess with the results.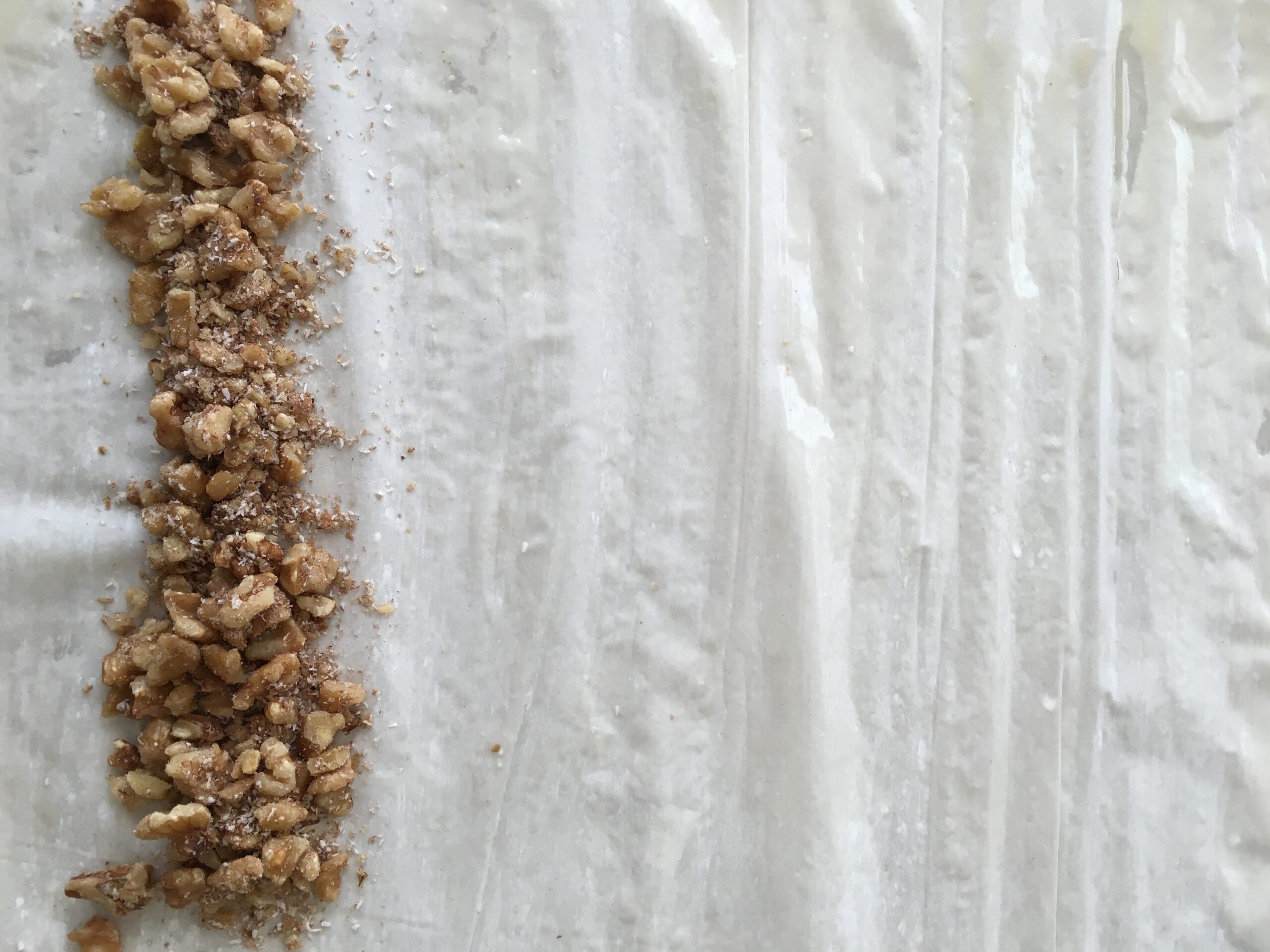 Pro tip: You can cut the dough to be any size smaller to fit in the pan. (be gentle) You can also choose the bake hem further apart to make the crunchier and not "soggy" in-between. I personally recommend a 8 by 12 pan , however, it does depend on your dough size.
The Tricks for the Perfect كلاج:
Did you know that the butter/ oil in between each layer is actually very important! Do not skip it, and be very generous. The utter separates the layers and will create flakes in the rolls. ( and a delicious crunch). Also, adding lemon to your "syrup" is very important. It makes it "sticky" and almost have a slight thickness/ shininess to it.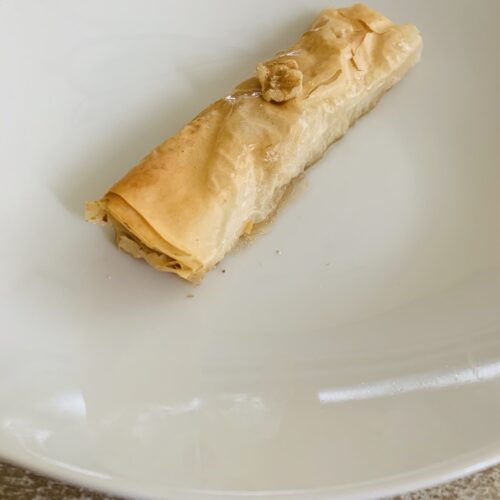 كلاج- Stuffed Filo Dough
This recipe is truly delicious and unique! You will absolutely love this crunchy filo dough, stuffed with cozy walnuts, stretchy cheese and smothered in a sweet sauce.
Ingredients
Filo dough

the amount needed depends, see note

1/2

cup

melted butter

or canola/ mazola oil
For the cheese filling
4

pieces

ground mistaka

مستكة

2

cups shredded cheese

sweet, syrian, mozzarella or nabulsi

1

tbsp

sugar

1

can

of labenese cream

or ashta/ ishta
For the walnut filling
1

cup

crushed walnuts

(not finely crushed)

1

tbsp

sugar

1/2

tbsp

cinnamon
For the "syrup"
1

cup

sugar

3/4

cup

water

2

tsp

rose or flower water

squeeze of

half

a lemon
Instructions
Preheat the oven to 415°F of 200°C and prep 2 8/13 pans or trays.

Start by combining all the ingredients needed for each filling (each one is seperate) You can choose to make only one. Prep your Filo dough and melt your butter.

Before you start, in a sauce pan combine the sugar and water for the sauce and heat until it boils. Then, add in your lemon juice and flavoring and let it boil unil it is a sticky but runny sauce.

Add in some filling to your dough (shown in photo above) make a line about an inch this with the filling at the short side of the dough. Smother the dough generously with the melted butter and roll. Put it into your pan. Once you have finished filling a tray brush the top generously with butter.

Bake easy filling seperately as easy bakes at a different timing. (Cheese for 20-25 minutes and walnut for about 15. or just bake it until golden brown). When it is frech out of the oven, pour the sauce on top (don't worry it will still be crunchy) And let it cool.
Notes
-Make sure to pour the syrup over when hot.
-You can use butter or oil, it down not matter.
Enjoy, and make sure to let us know what you think.
–Numnum 🙂