These cookie can be found in any middle eastern bakery! They taste wonderful, and are infused with the tastiest anise flavor! These taste great with a warm drink 🙂
The ingredients used to make these cookies are quite simple, and the method is also so easy.
How to Make Anise Cookies
In a glass bowl, mix all of the ingredients. Start with the sugars and the wet ingredients, then mix in the dry ingredients. The dough has quite a bit of oil so it may make your hands greasy as you work with it. The ingredients are in the recipe box bellow.
How to Shape the Cookies
This was a bit confusing when I first began working with this recipe, but I found two simple ways to make it work…
The first method is the one used in all of my photos, you just have to flatten out the dough into a 1/4 or 1/2 inch rectangle and slice them into thin 1/2 inch rectangles. I made 3 large trays using this method. You can see a visual in my video bellow.
The second method: Using your hands roll out a log, then shape it into a ring. This method also makes three large trays of cookies.
Video:
Storing:
Since these cookies make 3 batches and can serve up to 10 people, they are very easy to store. Store them at room temperature for up to a week and in an airtight container for up to a month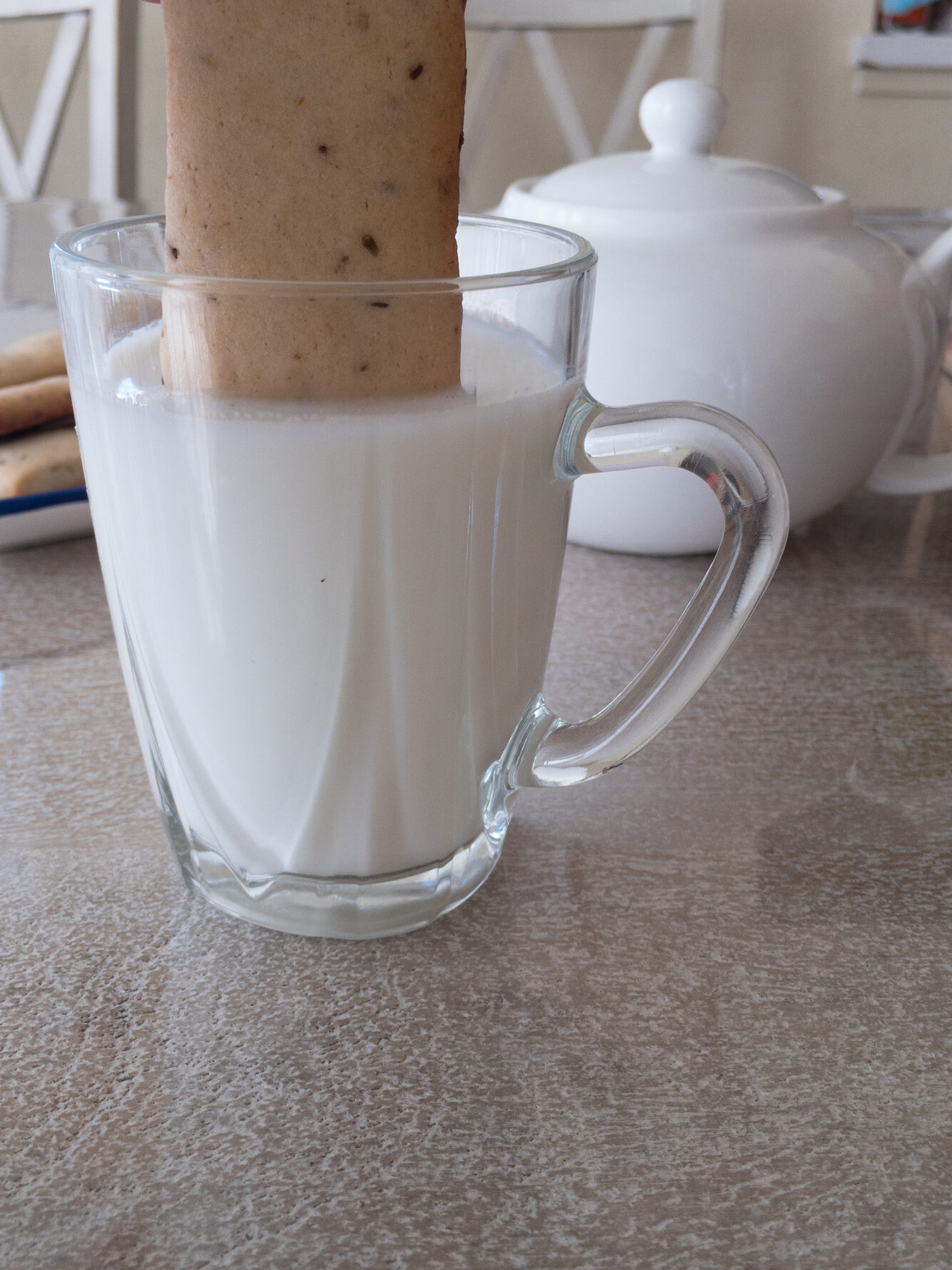 Troubleshooting
If your cookies start cracking, that's totally normal for these cookies to have small cracks. However, if harsh cracks appear, it means that your oven might be too hot.
To solve this problem just chill the dough for 30 minutes. The cracked cookies still taste wonderful though 🙂
Very easy
This recipe is very simple and requires no mixer! You can even do this with just a fork! I was able to through this together quickly in just a few minutes and it tastes wonderful! (requires no mixer)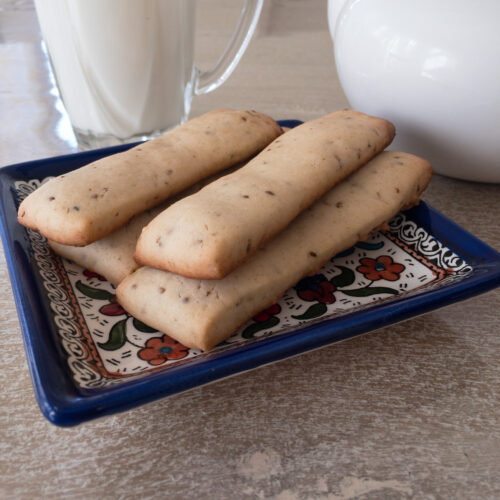 Anise cookies/ biscotti/ biscuit
These cookie can be found in any middle eastern bakery! They taste wonderful, and are infused with the tastiest anise flavor! These taste great with a warm drink 🙂
Ingredients
3 and 1/2

cups

all-purpose flour

3

large

eggs

1

cup

granulated sugar

1

cup

canola or vegetable oil

or any unflavored baking oil

4

tablespoons

Anise seeds

1

tbsp

of baking powder
Instructions
Preheat your oven to 400°F or 205°C and line 3 large cookie sheets

Ground half of your anise until fine. (you can use a mortar or a processor/ blender). Add in sifted flour and baking powder and mix to combine.

In a seperate bowl beat your three eggs until light in color. Add in your sugar and stir. Finally, add in your oil and stir until fully combined.

Slowly add in you dry ingredients and stir until a lightly greasy dough forms.

The first method is the one used in all of my photos, you just have to flatten out the dough into a 1/4 or 1/2 inch rectangle and slice them into thin 1/2 inch rectangles. I made 3 large trays using this method. You can see a visual in my video above.For the second method you can form a log and tie it to form a dough ring. If you want more of an original mediterranean anise biscotti (Ka'ak) then create a mound that is 1/2 an inch thinck and cut after baking 3/4 of the way. Finally you can bake it the rest of the way after you cut it to let it fully set ito a biscotti.

Bake for 10-15 minutes depending on the size and shape (and of course your oven)
Notes
Biscotti Method: If you want more of an original mediterranean anise biscotti (Ka'ak) then create a mound that is 1/2 an inch thinck and cut after baking 3/4 of the way. Finally you can bake it the rest of the way after you cut it to let it fully set ito a biscotti. Chilling the dough: If you dough forms cracks chill it for 30 minutes then bake. Read the post above for more info Room temperature: None of the ingredients in the recipe must be room temperature