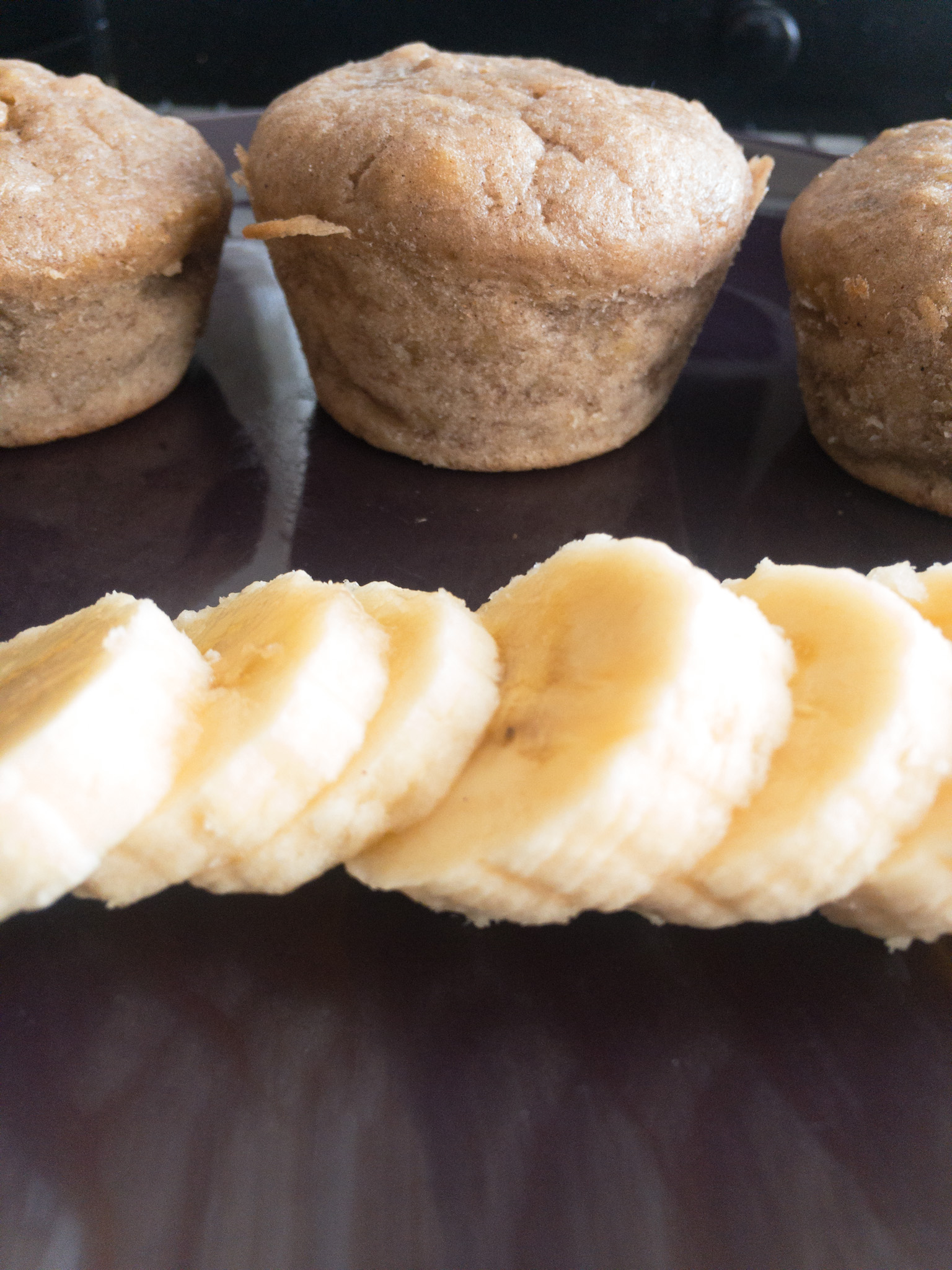 This is my absolute favorite muffin recipe! It is easy, nutritional and most important: tasty!!
This recipe is so easy and tastes just like banana bread. It makes the perfect amount because they will be gone as soon as they come out! Good Luck!
How to Mash Bananas
Did you know you can use your electric mixer to mash bananas? Break or slice the spotty bananas into large pieces and place in the bowl of your stand mixer– or use a regular mixing bowl and your hand mixer. Begin beating on low, then gradually increase to medium-high speed as the bananas break down into mashed banana. Transfer the bananas to another bowl and use the mixing bowl for the banana bread ingredients. (No need to clean it– some mashed banana remnants is fine.) or just do this the regular old fork way mash-mash-mash! Please use ripe bananas for best results!
Butter: Use softened room temp. butter for a soft texture and irresistible butter flavor.
Brown Sugar: Brown sugar yields a soft moist cake. just like in my banana bread recipe this ingredient is the secret to success!
Eggs: Eggs supply cakes, cupcakes, breads, doughs, and cookies their stability and structure, as well as a tender texture. You'll need 2 large eggs in this recipe.
Yogurt: Yogurt adds even more moisture to this banana bread. I like to use yogurt as mush as possible when I'm baking. Sour cream is a wonderful substitution for plain yogurt. You can use the two interchangeably in most baking recipes. Make sure to read recipe notes if you do. You can also use milk in substitution. Just add a bit less. *See the note*
Is this recipe for you?
you have 3-5 spotty bananas
you want a easy recipes
you want NO left overs
you have no equipment (or don't want to dirty it)
you hate washing dishes but love baking
you want an easy recipe
If more than 3 of the above apply to you then this recipe is for you!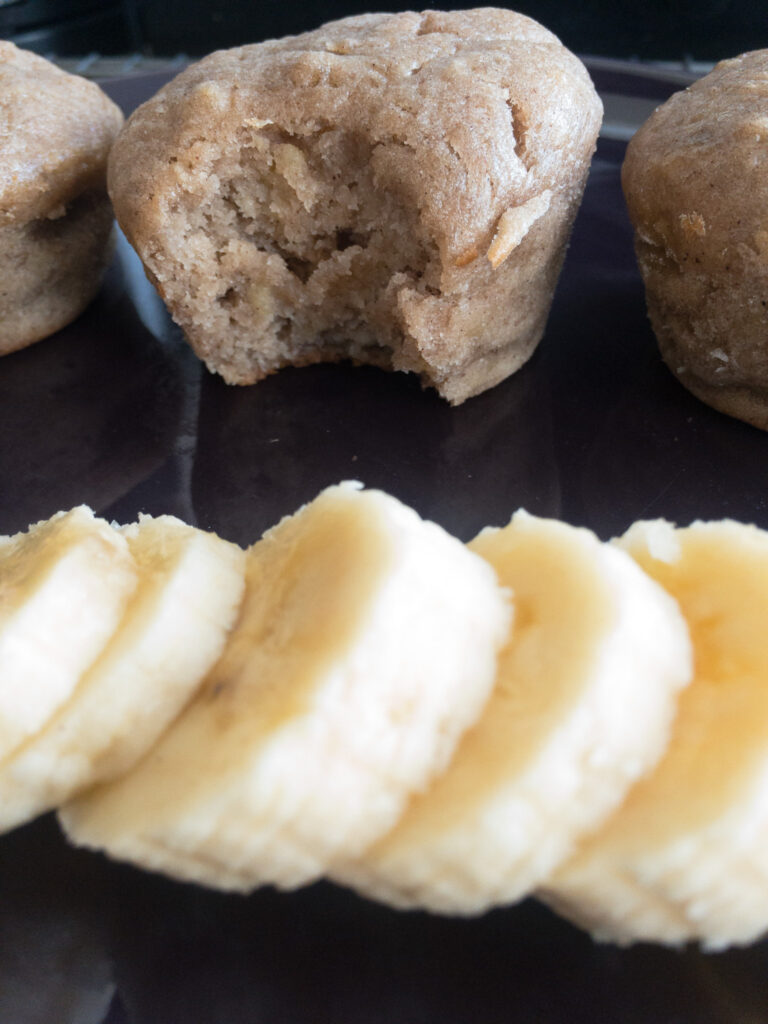 Why I love these:
These muffins are easy to make with basic ingredients. Only 1-3bowl required!
They're also naturally sweetened with maple syrup or honey, rather than loaded with refined sugar. The maple syrup (or honey) offers a touch of extra flavor, which I love.
A touch of cinnamon offers some warming spice flavor. These muffins will make your house smell amazing!
These muffins freeze well, too. Just defrost individual muffins in the microwave for 30 to 60 seconds, or until gently warmed through. You don't want to overdo it.
What makes it a muffin?
The best part of a muffin is the moist interior, the silky outside, or is it the flavor? You decide… As you can see I did not line the muffin pan because I am not a fan of lined muffins. You can totally line it with cupcake liners or even do a bakery style parchment lined muffin. I just wanted a simple yet tasty muffin! What makes this a muffin is that you can fill it up all the way. It won't spread and it will have a beautiful top!! This is also much moister than a cupcake.
Overall, this is a SUPER easy recipe for classic banana muffins. The batter takes about 10 to 25 minutes to throw together, the bread stays moist for days, and nothing beats the smell of fresh banana bread in the oven! If you are reading this: STOP, READ NO MORE, you have found the perfect banana bread recipe!
Good Luck: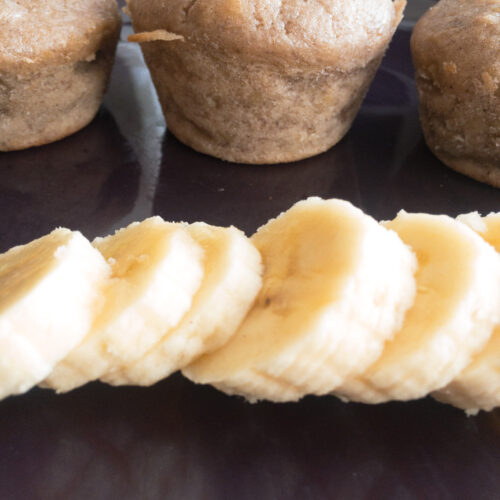 Banana Muffins
This is my absolute favorite muffin recipe! It is easy, nutritional and most important: tasty!!
Ingredients
1/2

cup

soft butter

1/2

cup

of Brown sugar

1/2

cup

of granulated sugar

1

tsp

vanilla

1/2

tsp

salt

1

tsp

baking soda

1

tsp

baking powder

2

eggs

3-5

large bananas

the more the better: I use 5 🙂

2

cups

of flour

1

tsp

of vinegar

2

tsp

of cinnamon

3/4

yogurt (greek, whole fat, or even sourcream)

See note

walnuts optional
Instructions
Preheat oven to 350°F or 180°C. Grease and flour your pan

Cream the butter and sugar, then add eggs and vanilla. you can do this by hand.

In a large bowl. Sift your flour, baking powder and soda, salt and cinnamon into a bowl.

Fork your bananas until smooth

Alternate adding your dries and your yogurt and vinegar to your wet micture.

combine well, the batter will be thick.Finally, Add your bananas.

Evenly divide your mixture into your cupcake/muffin tins. Fill them all the way to the top.

garnish with nuts (or chocolate for a less classic banana bread)

bake for 18-25 (I mostky do it for 22 minutes)
Notes
Yogurt: You can replace the yogurt with 1/3 a cup of whole milk.
Frozen Bananas: You can use thawed frozen bananas in this muffin recipe. Thawed frozen bananas are extra wet, so blot them with a paper towel to rid some excess liquid.
Want a banana bread recipe? Click!!